It was a strange night for the final race of the Greenwich Flying Squadron twilight series as the forecast 11 knots around Cockatoo Island was more of a drift and the 18 knots forecast for around Goat Island was lucky to get to 10 knots.
In the lee of Long Nose Point it was zero knots for the five minutes we sat in the calm after unsuccessfully trying to convince Joli to go to leeward. For additional punishment for this decision Lisdillon drifted over the top and away with Joli while we sat in nothing.
Up to that point we had been doing quite well and had Utopia just to leeward and ahead and Agrovation just a bit forward of Utopia and had we stayed in the breeze we might not have finished 16 minutes behind Utopia.

Jackpot did exceptionally well off the start line by coming in below the fleet with speed and hitting the line on time. Dump Truck and Passion X were hovering just in the pin waiting for the gun and as a result had no speed and no steerage. Certainly Dump Truck had no way on and did not have to respond to a call to go up because they had no way on to go up with. That left just enough room and I mean just enough room for Passion X to follow Dump Truck over the line . Meanwhile crossing on port Meridian tacked in front of the fleet for another good start.
Infotrack and Much Ado V had to take Jackpots stern when they tacked back on port and when Infotrack tacked back to starboard in front of Passion X we tacked back to the Onion Point shore to maintain starboard rights off the point.
Well we were not quick enough so Dump Truck crossed and Much Ado V tacked in front and lifted clear so that they could tack cleanly for the beat out of Humbug.
At this stage we had Joli and the two Sydney 38s behind and were travelling quite well on the work to Cockatoo Island. What I thought would be a tight reach to Cockatoo turned into a hard beat with plenty of the earlier fleet crossing with rights.
Before we left Humbug Agrovation pointed up from below to a clear ahead position and once in front gave us a good dose of disturbed air to establish a small lead.
Once around Cockatoo island Utopia ran along the shore in a breeze of their own and cut inside at the corner to also take our air. Then they pulled below a few boat lengths for clearer air and established a small lead.
That was about the order of proceedings until Long Nose point when Joli tried to go over the top and we went with them all the way into the wind shadow.
By the time we extricated ourselves from the wind shadow we had lost five minutes on Utopia and had been passed by Joli and Lisdillon.
Hoping that was the end of the troubles for the evening we pressed on. By the time we had rounded Goat Island and ran and reached to Cockatoo island Joli was just a few boat lengths ahead and we had caught Lisdillon.
Now we were very careful not to get caught in the lee of Cockatoo Island but that was of no avail because there was no wind anywhere. Ahead we could see Joli reaching away with breeze while we sat waiting for Lisdillon, Fireball and Sweet Chariot to catch us.
They all caught us but we managed to pull clear and again they all caught us. Finally we came to Onion Point almost line abreast across the stream. On the western side of the group of four we picked up a flick of the breeze and with Don experty holding our the genoa to windward we crept to the line a few seconds ahead.
It was a hollow victory over the tail enders as we knew full well we would be last on handicap. What was astonishing is that Joli pulled out an eight minute gap on that leg from Cockatoo to Humbug.
Just as surprising is that Utopia took out the handicap win having been just in front off of Long Nose on the first lap.
Finally well done to Jackpot who had a cracker of a start and kept on going all night for a second in handicap.
Eighth is Ok if your nearest competitors are 9th, 10th and 11th and so it was. If it had been otherwise we might have been disappointed with our misfortune around Goat Island where mid fleet we were passed to windward and leeward. Only Utopia had as much bad luck and they emerged only metres in front of Passion X. Infotrack, Much Ado V and Dump Truck picked up breeze outside the fleet and roared away for 1st 2nd and 3rd on handicap while Lisdillon took a gamble along the shore in the wind shadow and somehow emerged well for a 4th place.

Leading into our becalming in the lee of Goat Island we had enjoyed the race with Ben Gemmell on board giving tuning advice. In the westerly breeze we reached to the corner of Goat Island behind Infotrack, Much Ado V, Dump Truck and Meridian and were feeling pleased with our position. On the work around Goat, Agrovation had a big lift from behind about which we could do nothing but tack when they did and head for the corner. From Cockatoo we had a broad reach followed by a pole out all the way to Goat Island. In this configuration we held our position well with only Jackpot picking up a couple of boat lengths along the way.
As we rounded western end of Goat Island we could feel a good place coming as we had just the beat back to Humbug to finish the race but it was not to be. Becalmed we were passed to leeward by Joli and to windward by Lisdillon while Sweet Chariot came down with the westerly wind to join the group in the lee of Goat.
Once out into the breeze we made good progress showing over 5 knots VMG on port tack but less on starboard. I need to adjust my wind angle to get the reading right on both tacks but in the meantime it is nice to see the over 5 knots on port.
Back into Humbug we were again becalmed and only picked up breeze once well through. In this last chance for a good place we were again disappointed and more so to see Sweet Chariot charging up Humbug seemingly in good breeze all the way and doing enough for 7th place.

On the leader board our three closest rivals were able to drop their scores from tonight while we had to carry the 8th place. That leaves Utopia well clear of Passion X and Jackpot on equal points with Joli just 2 points behind. With up to 13 places available on a good night the finale next week should be interesting.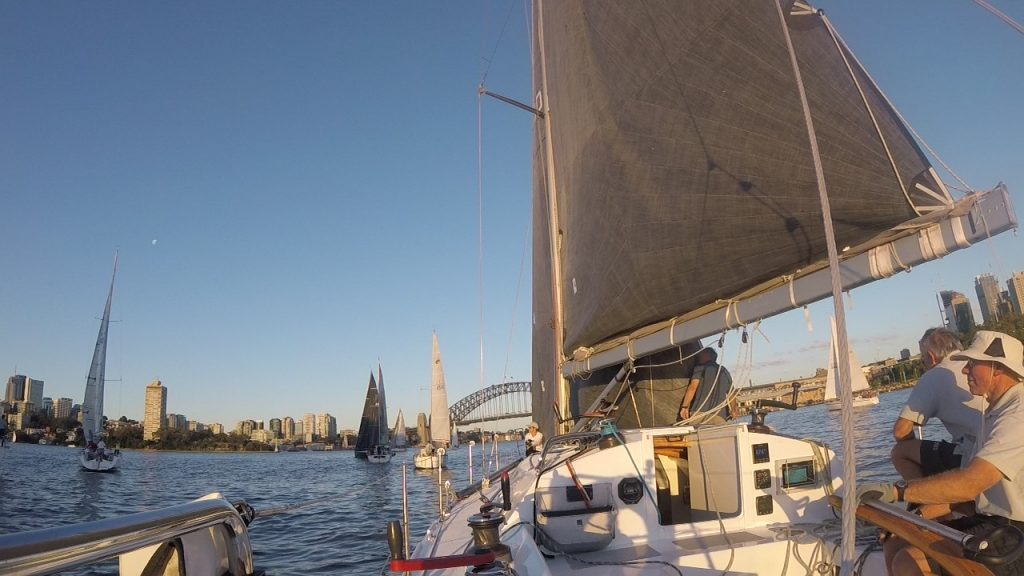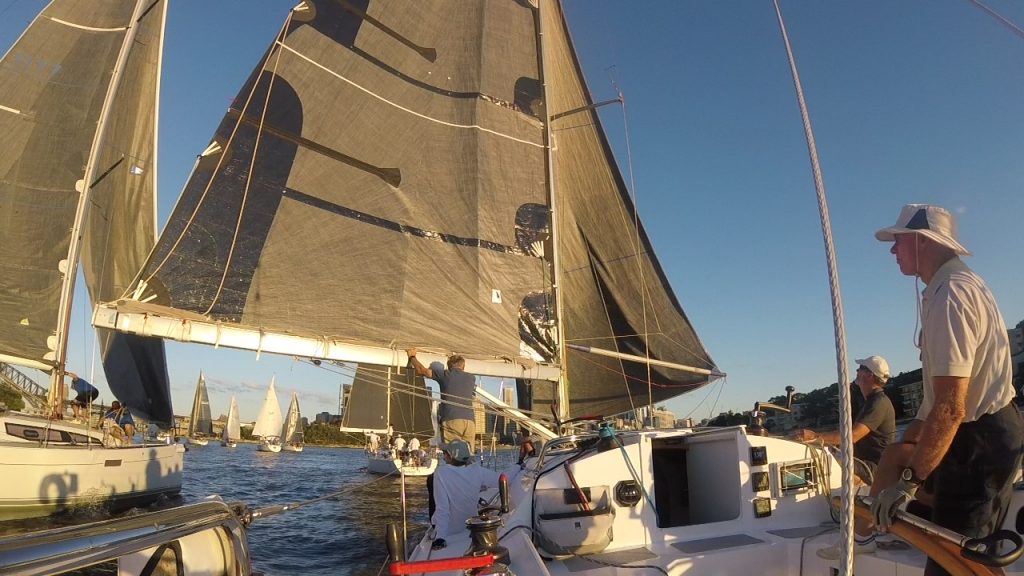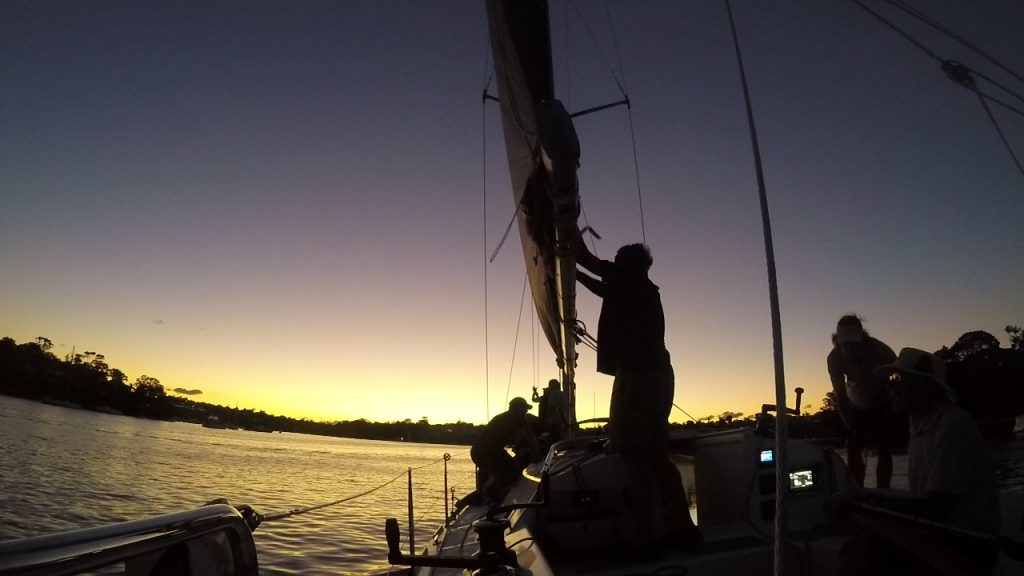 Despite the dire rain forecasts for today there are some bright patches so why are we not sailing at Balmain this afternoon?

I was on the road early this morning listening to the traffic reports and appeals to motorists to stay out of the flood waters and off the road unless absolutely necessary.

With that in mind we pulled the pin on the scheduled race so that there was no pressure on any other crews to take to the water.

Looking at the state of the roads on the way home I can see a lot of water damage to the asphalt and with up to 100 mm rain forecast tomorrow I think the road repair and asphalt supply industry will be busy for months ahead. So there is an infrastructure boost to keep the employment numbers up.
Friday afternoon turned out to be finer than expected but I am at happy with our decision not to sail as the possibility of the roads being chaotic was real.
On Saturday I took off very carefully for Gosford sailing club and this time the sailing was abandoned. Once again the sailing would have been manageable but the road conditions were appalling and the fewer people on the roads the better. En route I could see the traffic back to Sydney stopped for an accident which was cleared by the time I returned home a couple of hours later.
Now what will Sunday bring?
The forecast steady 12 knots was in reality a five to twenty five knot evening which provided plenty of excitement to the much reduced Black fleet. For some reason six of the regulars decided to stay home in the dry and warm inside conditions leaving the seven starters to the cool and wet weather on the course. If they were looking for a first place on handicap it is just as well they stayed home as Lisdillon blitzed the handicap result for a second week and if this were the olympics WADA would be called in for samples. Not only did Lisdillon get a good start they managed to drift through Humbug near the front of the fleet and sail a very good race for the rest of the evening.

Further back in Humbug Passion X was run over by Fireball and Sweet Chariot and never gained speed until this two had passed allowing the clear air to catch up to Passion X. We then went low to sail away from the wind shadow and eventually headed up ahead of Fireball and Sweet Chariot but miles behind Ausreo, Lisdillon, Utopia and Jackpot.

For the rest of the race our interest was in catching Ausreo and staying ahead of Fireball and Sweet Chariot and while we seemed to be moving well through the water we seemed to be on the wrong side of a shift or two or three so nothing changed for much of the race.
The combination of rain squalls and shifty wind kept the the pressure on the crew as the up and down conditions required plenty of gear changes. Trimming was not helped by wet tell tales sticking to the sails in the early stages and as light faded towards the end trimming was even more difficult.
We had one incident when a shackle on a mainsheet turning block came undone and had to be replaced but the crew did an excellent job of keeping the boat going while I went hunting for spares and performed the required shackle surgery.

They were doing such a good job while i was effecting repairs that I rested on the bow and called the tell tales on the No 1 heavy genoa and the new mainsail. Both are made from Dimension Polyant Carbon Sports Light Skin. I like the material and am sure we will have many good races ahead.
With a few good gusts down the reach across Snails Bay we pulled away from Fireball and Sweet Chariot and pulled up to the stern of Ausreo.
For the run to Cockatoo we matched Ausreo and both of us pulled further away from Fireball and Sweet Chariot so that we rounded the west end of Cockatoo thinking we had pulled ahead on handicap.
In Humbug we were pushed around by the wind shifts and were lucky to come out of the shifts ahead of Ausreo who were put about by a Blue Fleet yacht. I gave a wry smile at this misfortune for Ausreo as it gave us enough space to get to the finish line ahead. Meanwhile Sweet Chariot and Fireball came charging through Humbug to steal the handicap places from Ausreo and Passion X. So good was the charge by Fireball that they scored second on handicap behind the enigmatic Lisdillon.

The charge of the back markers was good enough to relegate Jackpot to 6th place just one ahead of Passion X. With a consistent third place Utopia pulls away on the season leader board. I think Joli, Jackpot and Passion X will be tied on second place with two races to go and for our two consecutive weeks of tail end performances we get back a little handicap.

Watch this space.
We made a very good start to be with the leaders going into Humbug and doing reasonably well to windward. Approaching Long nose Much Ado V pinched out from under giving us a dose of disturbed air so that we could not clear the point. By this stage the fleet ahead had cleared the point and were beating up the Snails Bay shore while we had to tack twice to get to the same line. We needed the lift to the point to stay with us for two more minutes but it was not cooperating so this was our first time loss. Three minutes from Goat Island Utopia was just ahead and below and Dump Truck crossed on port to get then next lift from the right and gain a minute by the Goat Island mark. Lisdillon from behind also went to the Goat Island shore and made a big gain on Passion X.

The reach back to Long Nose was uneventful until we were becalmed off of the point. Our GoPro footage shows the flat mirror like water around us and also shows us anxiously watching Lisdillon reach up from behind with wind and sail right past.
Eventually we got the wind and passed the point so that we could pole out the genoa and give chase. Normally we would expect to make us some ground but the wind was not cooperation and we sailed side by side with Lisdillon to Snapper Island without making up any time on the fleet.

Once back to the work to home we pulled clear of Lisdillon and with the short tacking felt we had a safe margin. It was not to be as we were knocked severely as soon as we tacked away from the Hunters Hill shore while Lisdillon on the Cockatoo shore lifted well above our line.

There was little to do but follow her home into the open waters leading into Humbug. Here we were the recipient of our own lift on starboard well above Lisdillon's line and seeming like we might regain our lost ground. Ahead we could see the fleet on port tacking away from the Onions Point shore and they were not far ahead.

But then the wheels fell off. Passion X was knocked forty degrees and becalmed and now it was Lisdillon's turn to pick up breeze ahead and lift above our line.

That might have been the end of the woes for the evening but once past Onion Point we were again becalmed and headed so that we had a slow pinch to the finish line.

Once across the line our luck ran out again as the following fleet, Ausreo, Fireball and Sweet Chariot carried fresh breeze and steamed to the finish line.

We finished 11th only one second behind Sweet Chariot and only 1 minute and 28 behind 5th placed Meridian. In between was Ausreo, Utopia, Fireball, Infotrack and Sweet Chariot while behind was Much Ado V and Dump truck only 16 seconds behind us.

Out in front on handicap by a large margin was Lisdillon followed by Agrovation, Jackpot and Joli.

On the progress scores we drop our 11th from tonight and include a 6th. We now drop back to third place behind Utopia and Joli with Jackpot just one point behind.

With three races to go and potential places as bad 15 points per race the race to the season finish is still wide open.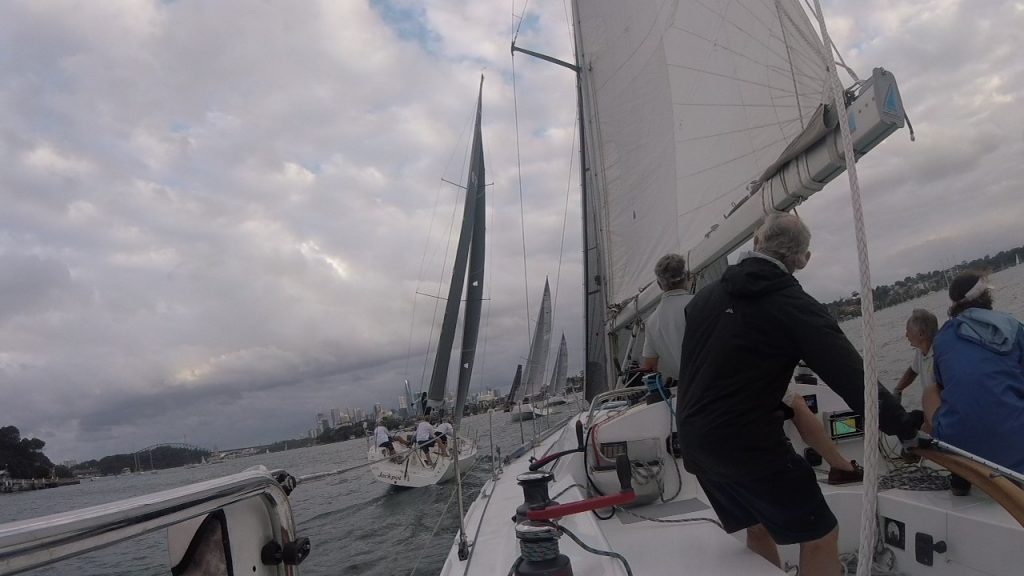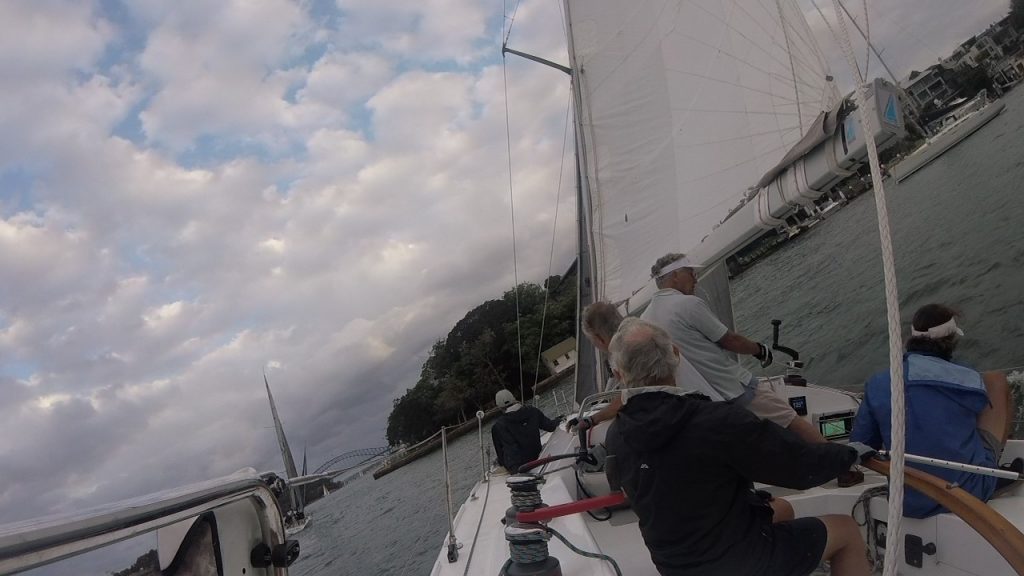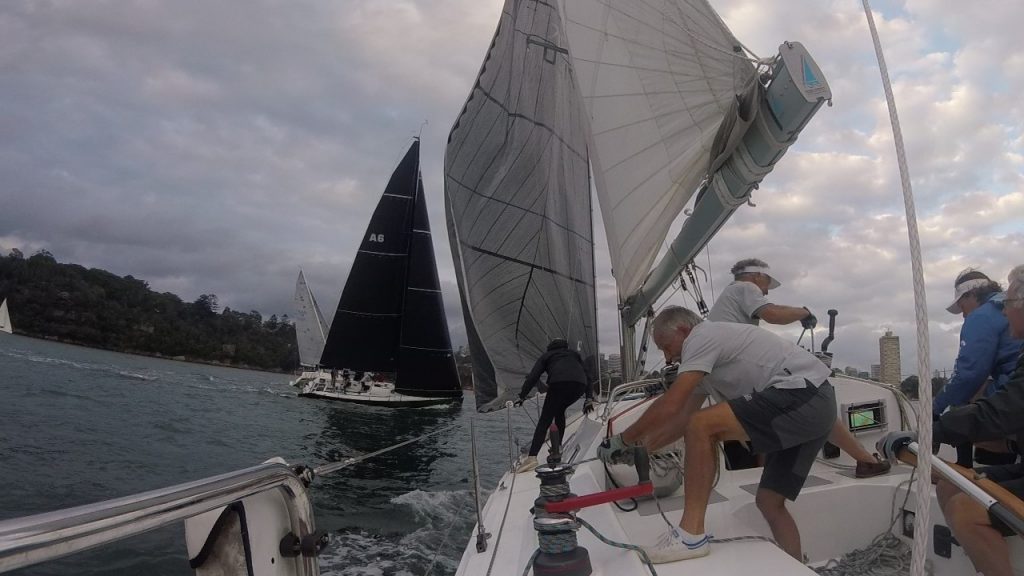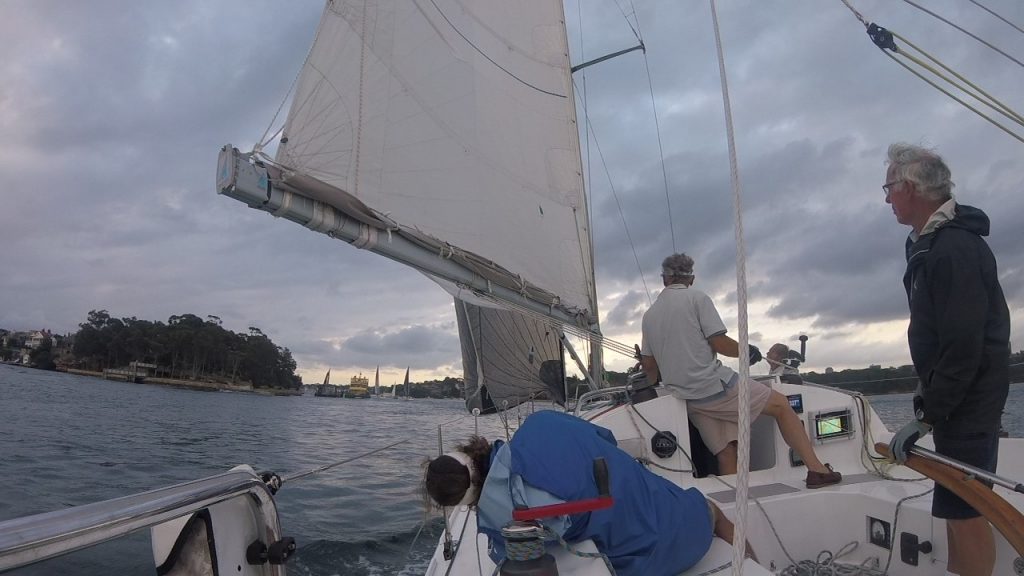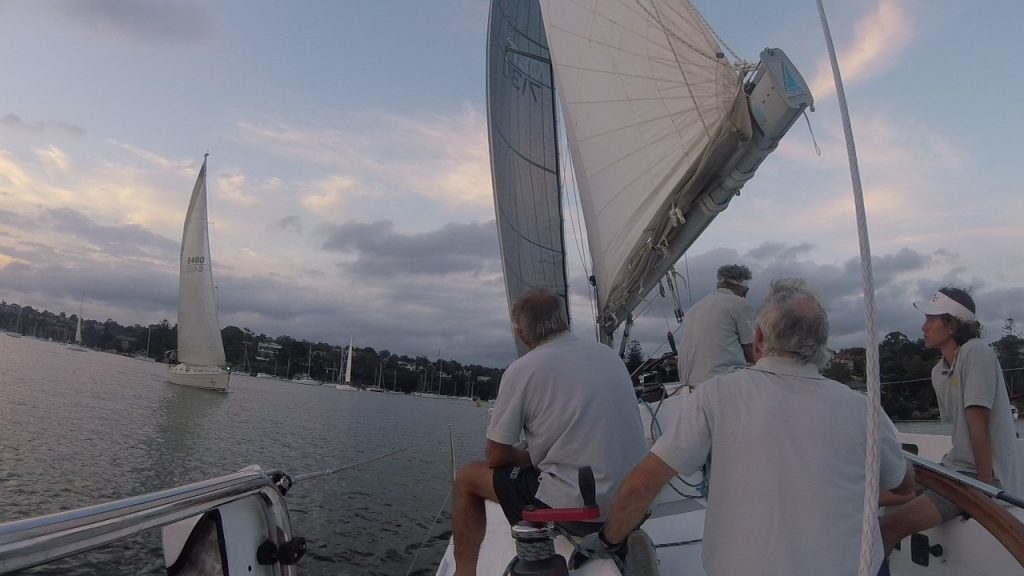 37 Seconds between 5th place and 8th place shows how good the handicaps are working. On Passion X we managed 7th place but will include our drop of 6th place in the progress scores. Joli with a 4th place will catch up two of the four points difference. Utopia still out in front will use her 8th place drop in the progress scores and we will pull back just 2 points on her 10 point lead.

With four races to go and the flukey end of the season ahead it is still open for many to overtake Utopia for the season crown.

In the light sub 10 knot conditions we made a good start on the western side of the fleet and kept tacking to keep to this side of the fleet. It worked well for us and we made it into Humbug behind just Infotrack and Dump Truck.

Conditions were very shifty on the way to Goat Island and courtesy of some shifts that went our way we were up with Much Ado V and Utopia as we went around Goat Island for the first time. Much Ado V managed to tack away from the Goat Island shore in clear air and pull out quickly while we were pinned down by Utopia waiting until we had to call water on the Goat island Shore. We called loudly so all the yachts to windward of Utopia knew our intention and tacked when our call was acknowledged. Now on starboard Utopia tried to go behind but could not bear away enough so had to go hard about with the inevitable consequence that her stern gave us a good fright on board Passion X. With no harm to crew we sheeted on and recommenced the race but lost enough time on Much Ado V to account for the margin she beat us on handicap.

Ausreo took advantage of the mayhem to catch up to Utopia and Passion X and threaten for a good handicap place which they won by 1 second over Agrovation. Cannot get closer than that.

Our challenge was to limit the time Utopia pulled out and not let Ausreo past. This we achieved by courtesy of a good lift along the Balls Head shore where we lifted towards the Goat Island turning mark while Ausreo below was headed and this was enough to keep our nose in front of them for the run home. Around Goat we could see Fireball coming well back in conditions that did not favour her nor Lisdillon.

Ausreo was not about to give up and blanketed Passion X with good effect until the breeze swung enough for it to come over our port quarter and allow us to reach away with clear air for a safe margin that blew out to 3 minutes by the light air drifting finish.

As we ran into Humbug with the pole out to port we could see the middle of the fleet off Onion Point all heading in different directions on different gybes. Alas there was no last minute gust up the middle for Passion X and our drift from Onion Point to the finish line was in confused air swinging from port quarter to starboard quarter but mostly refusing to come at all. All we wanted was one gust to go from 7th place on handicap to 5th but it was not to be.

Alas for the brave Lisdillon and Fireball who finished 15 and 22 minutes behind Passion X respectively and took over the role of back of the fleet that Ausreo filled last week. Indeed it was a credit to Ausreo to do so well in the light conditions tonight and it is amazing how just a few knots of breeze makes such a difference to this big yacht.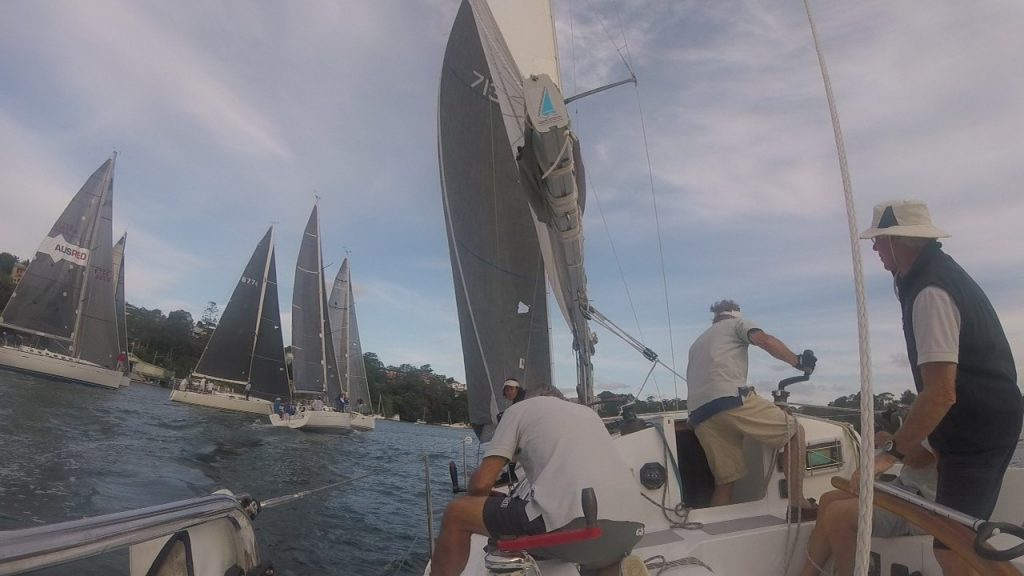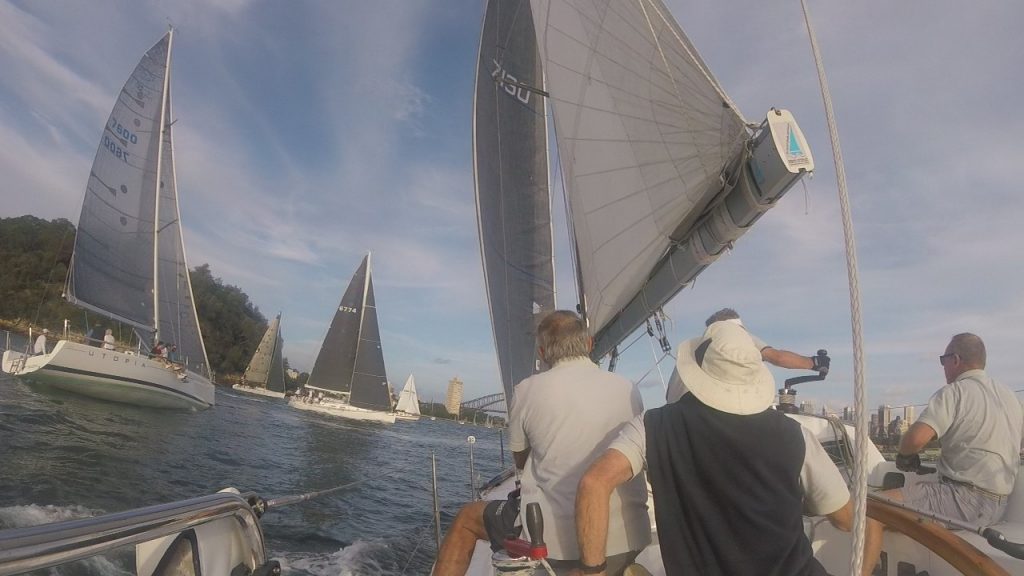 Thank you to the course setters who listened to our pleas and set a relatively short race out around Cockatoo island, down to Goat island and home. Even with this short course the last of the Black division yachts limped home with less than ten minutes to spare.
We had a good start relative to the fleet but threw away any advantage in the wild wind swings around Onion Point on the way out. In the ultra light conditions we have trouble getting the main to go through under the backstay owing to the stiff long upper battens. At times the only solution is to drop the main halyard and then hoist again after the tack. We have a new main on order with only one long upper batten and that should reduce the problem but in the meantime in any wind strength under 5 knots tacking is a big issue and therefore not done quickly. As a result we missed the phase of two very short shifts off of Onion Point and sailed towards the back of the fleet. Only Fireball, Ausreo and Agrovation did worse and to be fair to Agrovation we did put them about onto starboard sending them further into the wind shadow.
Once out of Humbug and settled down to the beam reach we pulled back Lisdillon but she was to prove very difficult to pass. Close behind Agrovation was catching and around Cockatoo she passed with a timely tack to starboard to take advantage of a shift along the Cockatoo shore.
We were then able to follow and chase after Lisdillon who had pulled out well around the end of Cockatoo.
We went low and allowed Agrovation and Lisdillon some friendly interference to windward so that by Long Nose we had passed well ahead of Lisdillon.
The shifts off of Balls head were very frustrating and the little lead that Agrovation had on us stretched out while Meridian, Joli, Jackpot and Utopia were enjoying some jockeying for position just ahead and across a patch of no wind..
It seemed to take forever to get around Goat island with the wind refusing to tend east as promised. Instead it went further South and kept fading.
Around Goat the lead yachts were invisible in the distance while Ausreo was still to round the red marker and Lisdillon and Fireball were obscured behind the island.
Now we had some competition from the Blue fleet with Koko travelling very well and refusing to act like a Blue division yacht. After a long side by side run we managed to reach up from under and eventually square away for the run across the bay to the Onions Point Shore. The Blue division French Connection gybed onto starboard below us and while we had our nose in front we were anxious to avoid being in their wind shadow so we followed suite but kept as low as possible.
Finally the sterns of some Black Fleet yachts were visible. In particular we could see Joli not far ahead with Agrovation giving chase. While the distance looked pretty insignificant the time was three minutes to Joli and somewhat less to Agrovation. Joli picked up a nice header that allowed her to reach into the finish line rather speedily while Agrovation held out their genoa to windward and ran straight to the line. Just behind we had insufficient wind to hold the genoa out and had a very slow finish.
Further back the finishers were slowing even more. Koko stalled somewhere between Long Nose and the finish and was ten minutes behind and in good company with Lisdillon and Fireball. Much further back and showing great perseverance was Ausreo who finished 35 minutes behind and just inside the time limit.
Alas the promised Easterly breeze did not spring up and at 10pm it was just 3 knots from the south at the airport.
For our persistence we finished third on handicap behind Meridian and Joli and a minute 20 seconds in front of Agrovation and Jackpot.
The light winds and rain forecast discouraged Infotrack, Dump Truck and Much Ado V so our three points should put us back into second spot a long way behind Utopia and with a large contingent right on our tail.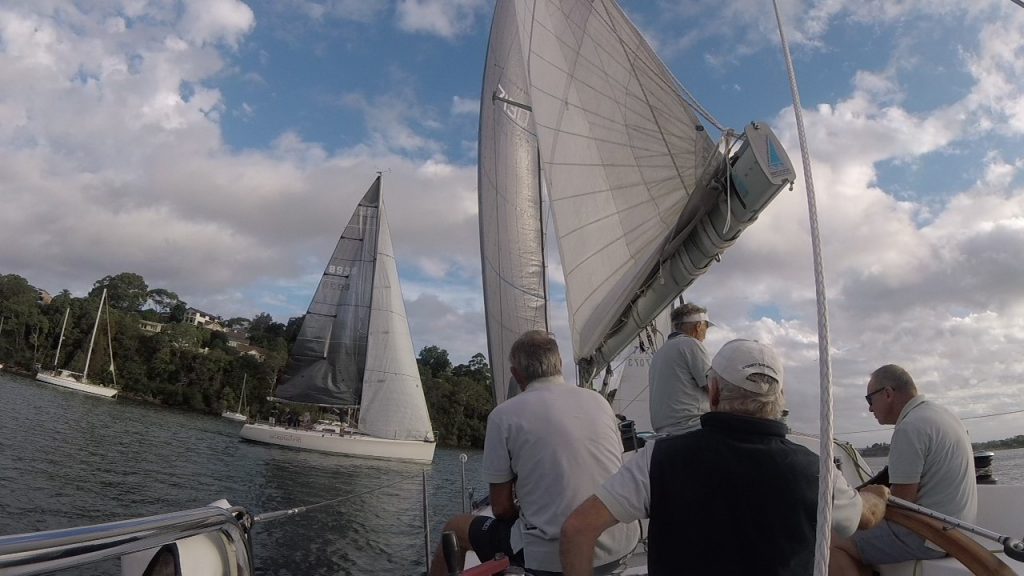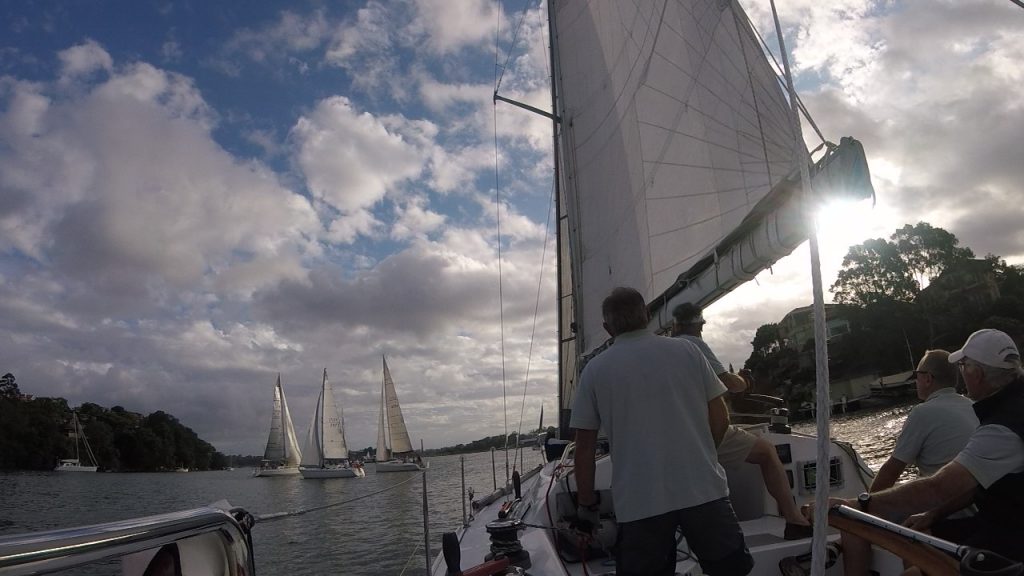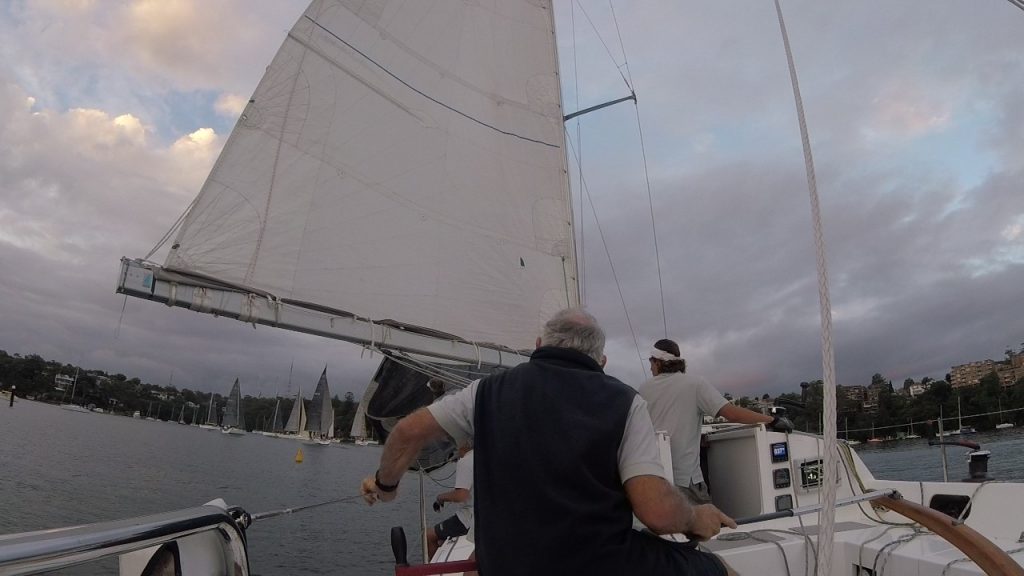 It was a night for the big genoas and we set our No1 heavy which was still damp from a fortnight ago and needed a good airing. As the breeze tended to be less than the forecast 11 to 12 knots we could have set our light No 1 and possibly achieved the same result.
The trip through Humbug was frustrating as we all sat becalmed. Unfortunately for us we were becalmed the longest and Lisdillon above closer to the wind shadow managed to find a puff and pull away while Fireball and Sweet Chariot just a few metres to leeward managed to sweep past and point up into the breeze. By a long margin we were stone motherless last out of Humbug and humbled by the experience.
Once intot he breeze we settled down to chasing the fleet.
Infotrack was out in front followed by Meridian, Much Ado V, Dump Truck and Joli. Further back was Ausreo, Fireball,Sweet Chariot and Lisdillon and it was this tail that we were chasing.
Our first break was a lift along the Snails Bay shore that lifted us above Lisdillon and on the knock back we were able to cross Sweet Chariot. Around the corner of Goat Island we were chasing Fireball and managed to put our nose in front on the reac back to Long Nose when Fireball and Ausreo went low and we went high for a streak of wind coming down the course.
At Long Nose the four last yachts converged on the point so we opted for the middle of the channel and eventually were able to reach up from under the tail on the approach to Cockatoo Island.
To our surprise the leading yachts had stopped along the Cockatoo shore so we made some substantial inroads into our time deficit.
Joli and Meridian managed to extricate themselves from the wind shadow off of the end of Cockatoo Island and reestablish a couple of minutes lead.
We stayed close for the work back to Goat in a position mid way between Joli and Meridian and the tail of the fleet with Lisdillon the most threatening.
Once around Goat Island we looked to have a big break on the tail and were closing in on Meridian and Joli while a little further ahead we could see the dark green hull of Dump Truck. As the wind bent around the headlands we managed to carry our genoa poled out into the middle of Humbug and were now just a few yards below Joli and Meridian.
Had the wind been a little kinder we would have shot past Onion Point in fresh breeze like the tail behind did but alas we were becalmed and headed and both Meridian and Passion X had to tack away and tack back .
From what I could see it looked like Joli managed to round on starboard tack and get a handy jump on sistership Meridian. Across the finish line we looked back to see the tail charging in on fresh winds and being carried swiftly to the finish line.

It was no surprise then that the tail wagged and got all the good points.
Joli by clearing Onion Point was the first it the front runners then Passion X, Meridian and last were the real front runners. And the first fastest Infotrack was last on handicap.
Lisdillon won by 2 and a half minutes from the close Ausreo and Fireball and to emphasise that it was a night for the tail to wag, even Passion X was over 9 minutes in front of Dump Truck on handicap and we could still manage only sixth place.
The forecast conditions of 8 knots was close to the mark and the sunny 21 Centigrade temperature made for a very enjoyable twilight race. For the light conditions we set the sails on the full side and reached out of Humbug near the front of the fleet. Agrovation pushed us up to windward forcing Dump Truck above us to respond and head up into the wind shadow. We were pushed so far that the sails inverted but eventually Agrovation got the same backwinds and had to pull away. That detour into the doldrums was a bit expensive particularly as Utopia several boat lengths to leeward sailed around the windward yachts and pointed up above our line to be clear ahead. Agrovation and Much Ado V tacked back towards Greenwich baths so we followed. Passion X on starboard had rights over Agrovation tacking back into mid stream but she tacked with just enough room to get onto starboard clear ahead forcing us to tack away prematurely. On the next tack Jackpot popped out in front and then Agrovation but further ahead was Infotrack, Dump Truck, Utopia and Much Ado V.
Meridian and Joli having their usual one on one duel approached Goat Island better than Passion X and rounded just in front. On the trip around Goat we went lower and enjoyed better breeze to make us some ground. From Long Nose it was genoas poled out for the run down to Cockatoo Island ane here we managed to pass Joli to port and Agrovation tp starboard with the benefit of our own breeze down the middle.
Hard as we tried we could not pass Meridian and she rounded Cockatoo Island a few boat lengths in front..
We settled down for the usual beat past Clarke Point and reach into Humbug when we were headed just off the point and grazed the bottom of the keel on the rock. it took less than 2 minutes to reverse off the rocks, tack away from the shore and tack back for the reach home but in that time Joli and Agrovation sailed past in deep water. On the last beat through Humbug we regained a few seconds on Meridian but they were a minute and a half ahead at the finish.
For our troubles we dropped two fastest times places to Joli and Agrovation and one handicap place to Jackpot.
Utopia beat Much Ado V over the line and took second on handicap behind Infotrack.
For the progress results Utopia will move 4 points further ahead of Passion X, Infotrack will slot in behind them and Jackpot will close a point closer.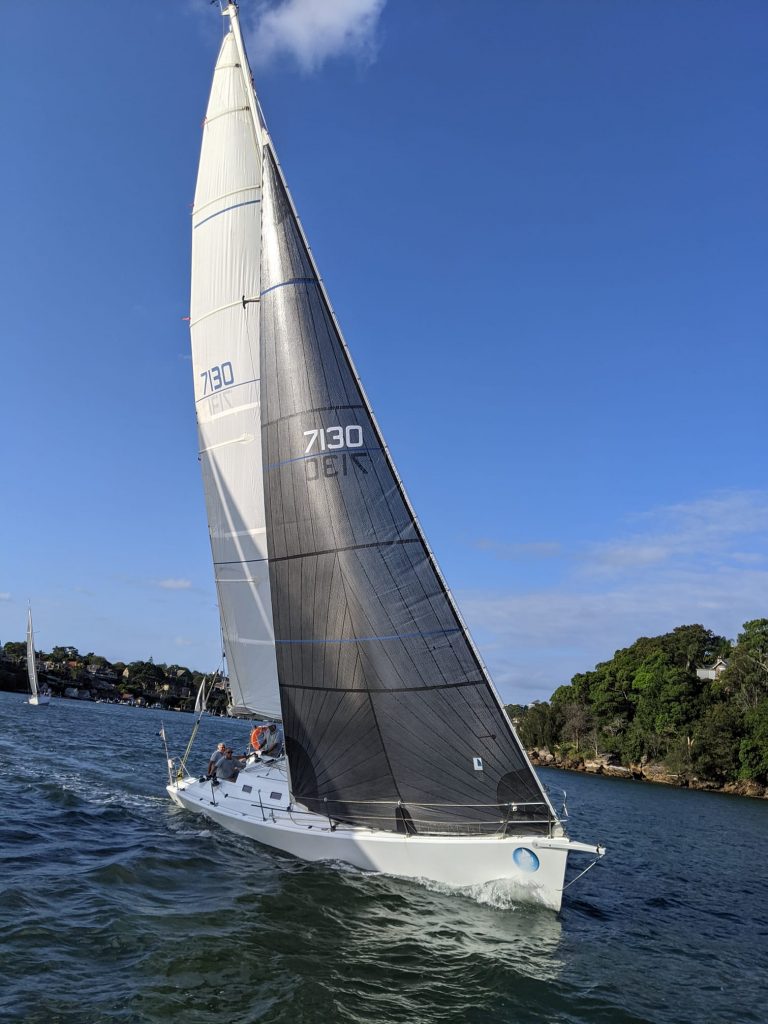 To be fair the thirty knots was post race as we were providing a water taxi service for one of the crew and the thirty degrees was on the way from West Pennant Hills to the water but all the same it was a warm and windy session.
For today we had two of my sons crewing and that added firepower for the windy conditions. In deference to the wind we set our new Carbon No 3 and put in one reef in the main. This appeared to be the rig of choice as Odyssey and Avalon seemed to have the same set up.

For some odd reason I clicked on the wrong link to the start times and gave away a minute at the start. We did think Odyssey started early but it was Passion X starting a full minute late. That minute gap to Odyssey varied very little for the work to Goat and the long run back to Spectacle Island but once on the work we slowly pegged them back to about 30 seconds.
Avalon with shiney new antifouling was not so close for the work to Goat and around Balls Head we picked up a strong gust which seemed to keep the distance fairly static. Along the Balmain shore to Cockatoo Island Odyssey managed to pole out their genoa and drew away and it was only a set of strong gusts along the Cockatoo shore that kept us in touch.
Around the eastern end of Cockatoo island Odyssey did some rounding up in the gusts which allowed us to peg back a few more boat lengths and at Spectacle Island we were right on their tail.
It was quiet around Spectacle Island and Avalon with genoa poled out was cutting into our lead at alarming speed.
Not wanting to take any chances in the 24 knot gusts we followed Odyssey around Snapper island and settled in for a drag race to the finish. Today the shifts went our way and we passed on front of Odyssey on the second last leg into the finish. Avalon was now charging up to our position but a header at the finish allowed us to flip to port and clear the line .
Allowing for our starting mistake we finished four and a half minutes slower that Avalon and that is a good result for us.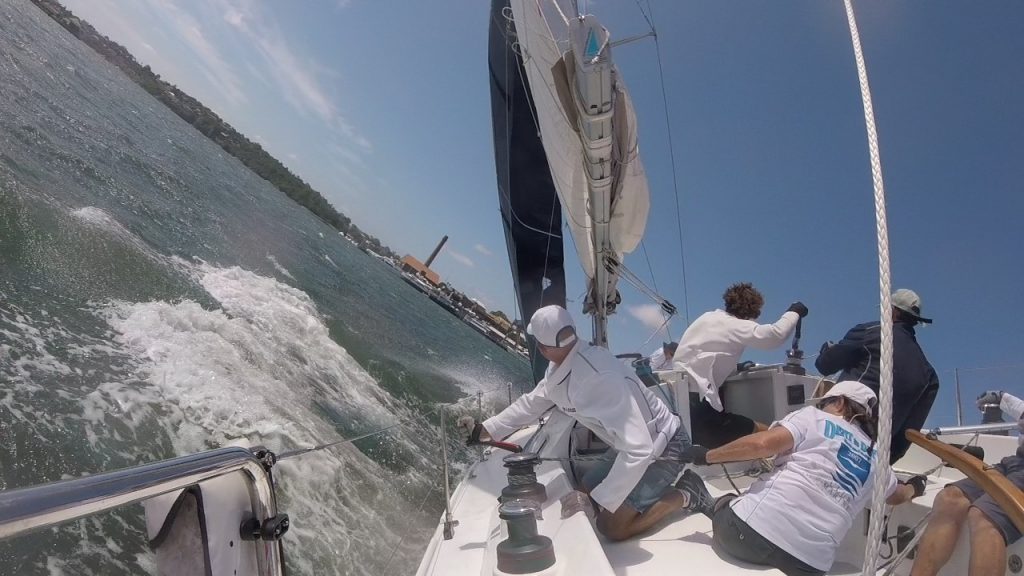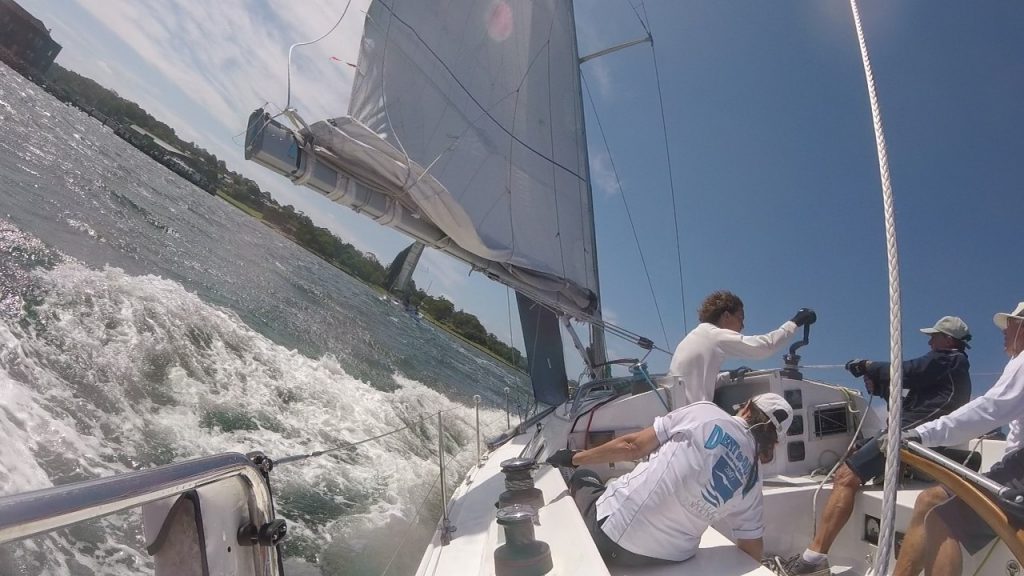 What a difference a week makes as the contrast with last weeks wet cold race could not be more stark. Tonight we had around ten knots and warm sunny conditions making for a most enjoyable evening. Our prospect had already improved when the divers removed the large plastic bag from the feathering propellor on Passion X. I am certain we picked this up half way through last Wednesday's race as we were performing well and mid race dropped off the pace.
We set the same sails as last week in part because the genoa was still dripping wet and in need of a good airing and the breeze was almost in the right range for our No 1 heavy genoa.
The start was a bit tricky as we had limited room between the moored yachts in Gore Creek and the fleet running back towards the port tackers making for the line. Dump Truck left no room between the moored yachts and Sweet Chariot was left circling in a very confined space off of the wharf and doing a fine job too. Some of the fleet opted for a starboard beat down the line and depending on the wind shifts they were looking good or bad. We opted to start on port mid line and would have taken sterns but for the fleet bearing away giving the appearance we were going to cross easily. As it was Jackpot graciously took our stern as the breeze left us almost stationary in their path. That allowed us to pull away from the header and still clear the rest of the starboard tackers.
Infotrack and Dump Truck were playing out in front in Humbug pushing up into the moored yachts and then Infotrack turned 90 degrees and headed back to clear air away from the Greenwich Point wind shadow. While this was going on Jackpot forced us up towards Dump Truck and while we pulled away as soon as we could clear their stern we were passed from below by Meridian and left in Jackpot's dirty air. The only bright spot was that Utopia and Agrovation seemed to follow into the wind shadow of the point and take just as long to emerge. The gain that Jackpot made in this phase was shocking. In a matter of minutes she was three minutes ahead and seeming to be having a great race.
We were sailing well enough but in the fresher breeze approaching Goat Island Ausreo was trucking up to our position and almost passed as at the red navigation mark. We did manage to bear away around the island with our nose in front only to be run over on the exit as we were blanketed by their rather large sails. We drifted through the gap in tandem but once the breeze came on the nose we had clear air again and took off after the fleet.
As the breeze faded a little we drew away from Ausreo and had a rather lonely race chasing Meridian on the long work from Spectacle Island back to Goat. Our boat speed and height was fine and we frequently saw over 5 knots VMG but did not always have the best wind direction. Meridian on the other hand picked some nice angles going into Goat the second time and drew further ahead.
On the reach back to Humbug we could see two Sydney 38's moving slowly through the gap and Meridian with better breeze making some progress from behind.
We followed Meridian's path with the extra bonus of breeze a bit further aft so we could carry the genoa poled out quite a long way down the broad reach to the Valentia street Wharf. Mid way it became too shy so we lowered the pole and stayed wide. Luckily for us we lifted along the Onion Point shore and had to tack only at the point to clear some early fleet yachts that looked to be about to run aground. The time lost in this was immaterial as it did not affect the fastest times or handicap places.

With a clean prop and some clear air sailing we managed third place on handicap behind Dump Truck and Infotrack. We were a minute behind Infotrack, a minute and a half in front of Jackpot and two minutes in front of Fireball. The two Sydney 38's had a close race with Utopia prevailing on time but Agrovation on handicap.
In the series we picked up six points on Utopia who are still 5 points ahead but we have broken out of the tight pack for second place if only for a short reign.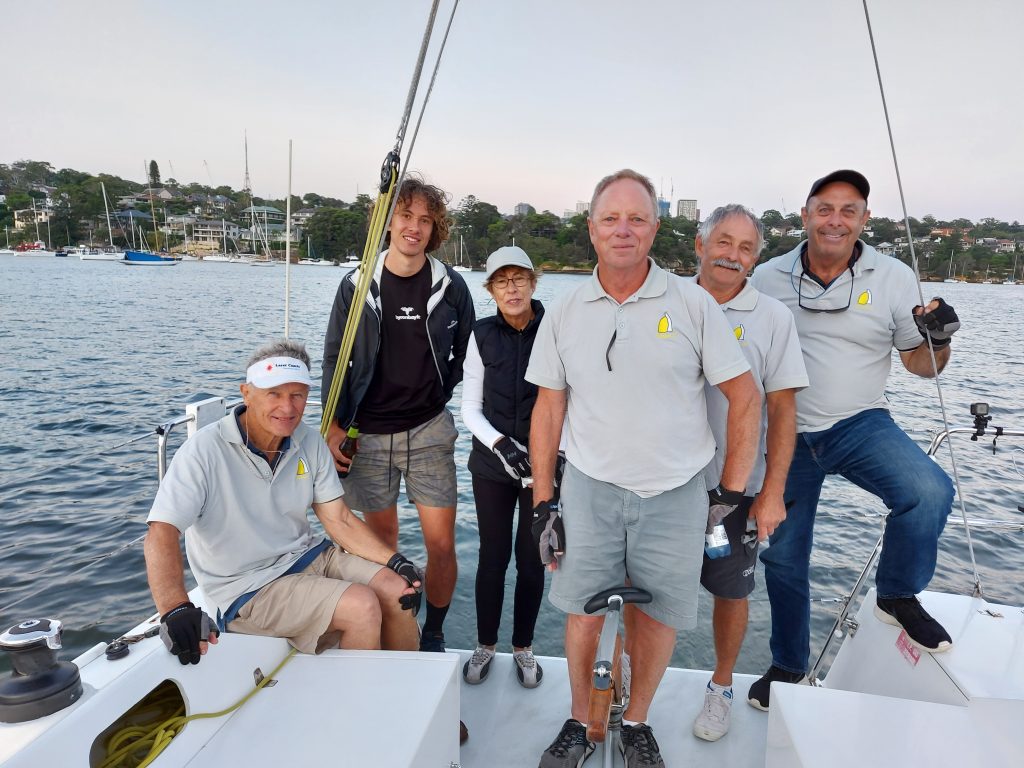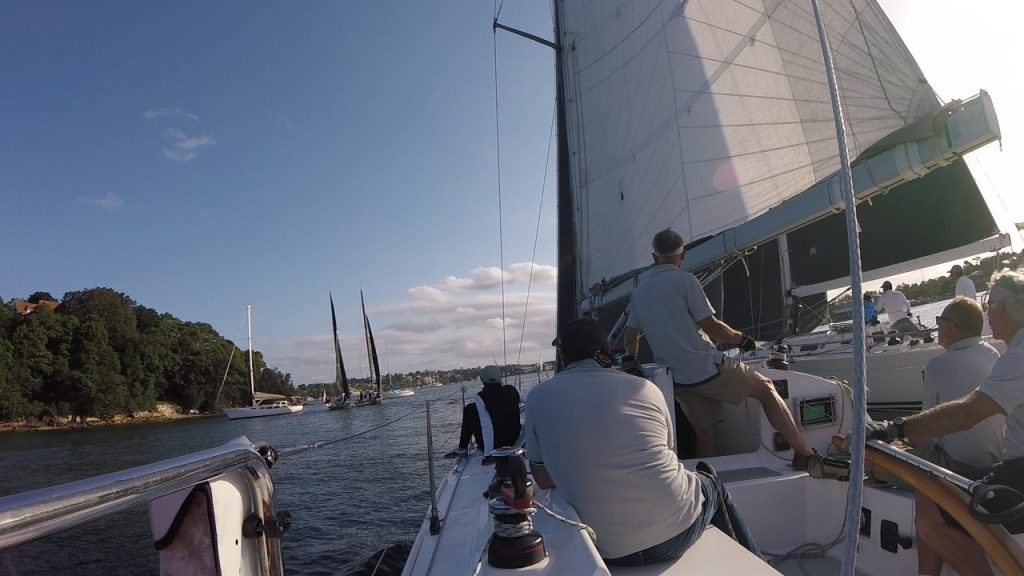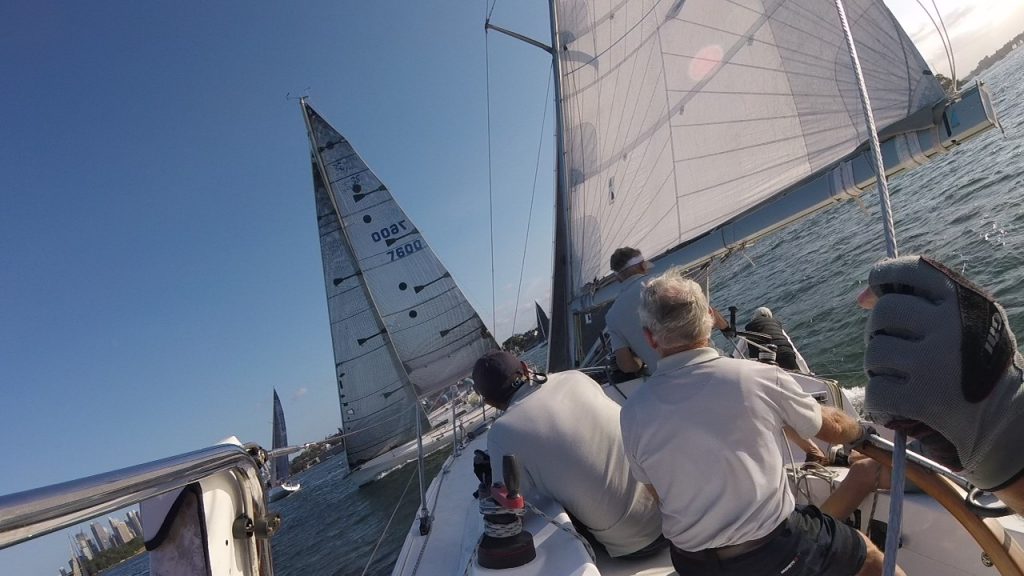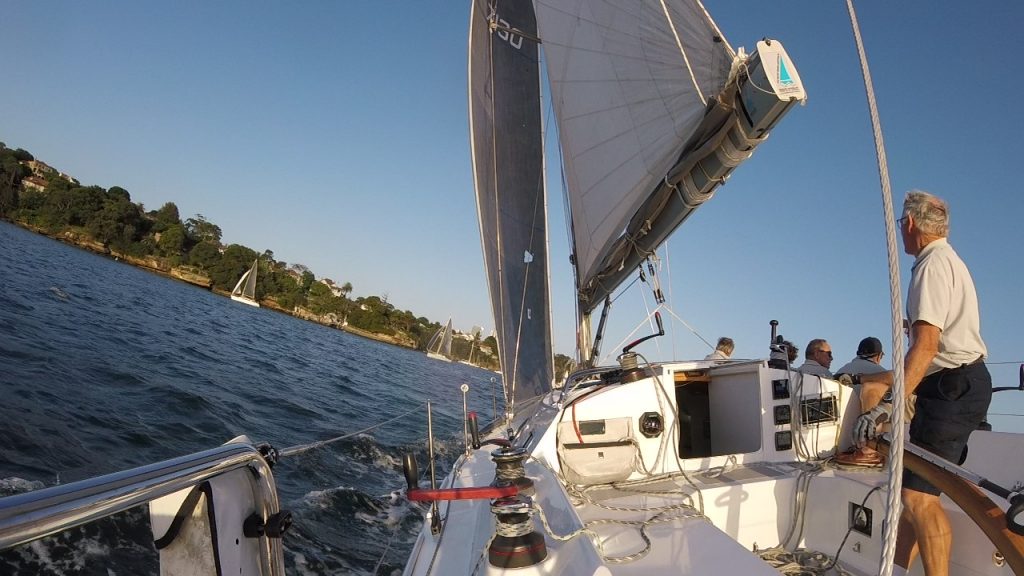 The weather forecast overshot the wind strength by 10 knots and undershot the rainfall by lots. Consequently the supposedly quick trip to Goat Island, around Snapper and Spectacle Islands and back to Goat and home took a lot longer than expected and produced a dripping wet crew.
The worst part was the tell tales sticking to the wet sails making steering to the breeze and sail trimming very difficult.
We did get some things right. The most important was choosing a large genoa in spite of the forecast. Without the No 1 genoa we would have struggled around the course as many patches were very light and certainly less than five knots. After a respectable start and work out of Humbug we found some 12 knots of steady breeze for the work up to Goat Island. In this early stage of the race we settled in well and drew away from Lisdillon, Ausreo, Fireball and Sweet Chariot while limiting the lead Utopia was creating out in front.
Some choices are debatable and we did debate it a lot on board. From Goat we were running quite square to Long Nose and could see Utopia in light air off the point. At least the air at the water level was light as there were few ripples to be seen. Out wider there was ripples on the water but the breeze was quite light.
One half of the crew wanted to keep running across the course and try to pick up breeze on the other side out wide while the other half wanted to reach across the light patch and follow Utopia.

Ausreo, Lisdillon and Fireball from quite far behind adopted the cut the corner approach and gained a lot of Passion X who was running quite slowly to the wind on the other side of the point.
At six knots of wind speed our boat speed downwind is at most 3 knots while on a beam reach it is twice that at 6 knots so apart from a shorter distance the speed is twice as high as long as you don't fall into zero breeze.
At 12 knots of wind strength the difference is less dramatic going from 6 knots running to 8.5 beam reaching. So paradoxically it is more important to take a conservative wide berth in light airs than in heavy.
We did manage to keep our nose in front of Lisdillon and Ausreo for the trip to Snapper Island with some patches quite tight and a rather nasty header going into Snapper which left us quite close to the shallows off the western end.
Around the end of Spectacle Island Ausreo carried her speed through the wind shadow well and tried to pinch up above us but we kept our nose in clear air and started to work out in front again.
Now the wet tell tales were making steering to the breeze and sail trimming close to impossible and that is important on a relatively light boat. Ausreo kept up momentum through the shifts and pulled ahead giving Passion X a good dose of dirty air to boot.
This time being wider of Cockatoo Island paid off as we managed to creep ahead of Ausreo along the Hunters Hill shore only to again be passed and gassed off of Balls Head. Once Ausreo drew away and we had clear air we began to work to windward and that paid dividends as we were able to reach into the mark in lifts and pinch up in the knocks to cross Ausreo and tack for the run home. Fortunately the light air in the lee of Goat was not so light as to kill our boat speed and on the east side of Goat we picked up a nice lift to assist with the overtake.
At some stage in the run home Lisdillon put in a guest appearance or pun intended a gust appearance but once the breeze reached Passion X we pulled ahead again.
At the finish we were 6 minutes behind Utopia which left us 40 seconds shy of their corrected time but the big winner was Sweet Chariot then Utopia followed by Fireball just 6 seconds in front of Passion X and then Lisdillon 7 seconds further adrift and Ausreo just another 7 seconds behind.
Apart from Sweet Chariot it could have been anyone's race and it is a credit to the handicap system.
Out of interest I recalculated the results based on the handicaps from last week and Sweet Chariot would have still won but Passion X would have been second followed by Fireball, Lisdillon, Utopia and Ausreo. This confirms how well the handicap system is working.
Next week it is back to the Twilight series where we pick up the handicaps from the Spring series where my forecast is we will all be cleaned up by Infotrack.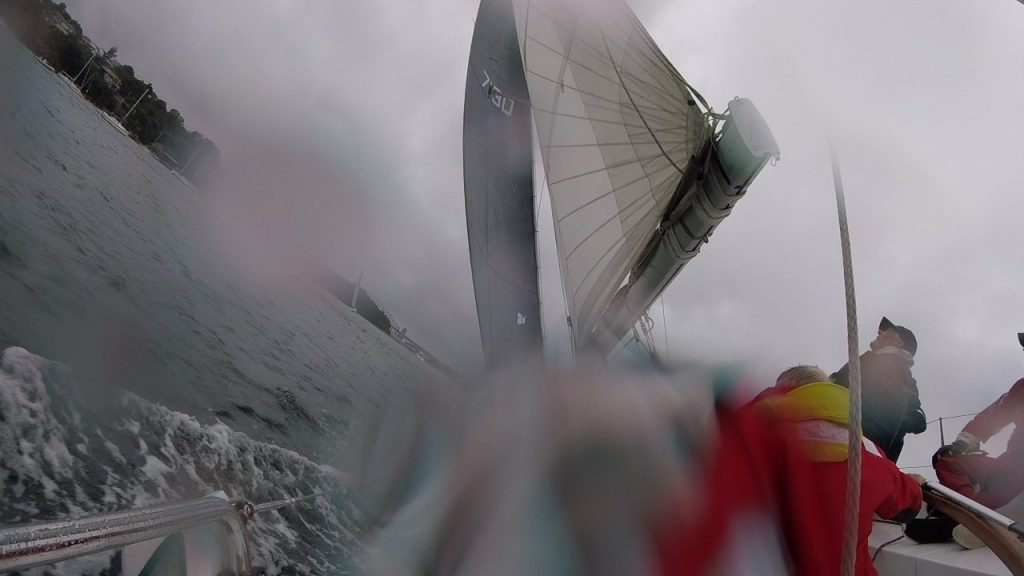 For the 8 knots forecast we set our largest, lightest genoa and planned to deploy our longest whisker pole. With that in mind for later in the race we made a good start and were well up with the fleet after the run through Humbug and down the side of Cockatoo island. We were going so well we were just astern of Dump Truck and Agrovation and looked to be in for a close race all night. We went wide around the end of Cockatoo hoping to stay clear of the wind shadow while Sweet Chariot took the inner line and emerged well in front. For a while we could not pick a lift and so worked our way to the back of the fleet with Fireball and Ausreo who was not enjoying the lighter conditions. Being wide started to pay dividends off of the Balmain Sailing Club when we lifted along the shore for a period and long enough to make inroads on Utopia but eventually the breeze knocked and we headed back towards the tail of a group including Utopia, Joli and Meridian.
In the changed of the wind direction Fireball caught us on port twice in the work and enjoyed sending us tacking. We did find a lift of our own to recover most of the lost ground and round in front of Fireball but like last week they had a very good run around Goat Island and just shaved our transom but we were already on starboard gybe and had all the rights for a change. Not far ahead we could see most of our fleet although Infotrack and Much Ado V seemed to be missing somewhere out front. We could see Jackpot, Utopia, Joli and Meridian reaching to the concrete dolphins in Snails Bay and then poling out their genoas so we prepared our long pole.
At the dolphin we whipped up the pole and held the genoa out to windward with good effect. By going low we kept well to leeward of the big blue fleet yachts and snuck through. Sweet Chariot went high for the freshening breeze and we followed and then were able to run away in the puff for good effect. All the while Fireball was threatening from close astern and looking to take our breeze at the first opportunity.
This last gust which we bore away on persisted for long enough to take us to leeward of Meridian who was becalmed off of Greenwich Point. To leeward at least ten boat lengths was Joli doing much better than any of the higher yachts and sailing through the lee of big brother Jackpot so it seemed like a good line to take.
Sweet Chariot opted to take the short cut but on this occasion it was a very slow trip through the doldrums and a very expensive one handicap place wise.
We kept hugging the Onion Point shore and could see Utopia out wider pick up some breeze but we now had bow ahead for the same breeze and it kept us moving up to a flotilla of becalmed yachts off of Onion Point. We correctly guessed that by the time we arrived at the distance mark off of Onion Point the tail of this pack would have just cleared it and so we were able to run deep away from the point and get a safe leeward position on a fleet of a dozen yacht including some big Blue division competitors like Worlds Apart. In this passing maneuver we eclipsed Utopia, Meridian and Jackpot. We pulled away from Fireball for the first time of the evening and finally broke free of Sweet Chariot. Ausreo enjoyed the fading breeze even less than the earlier light start but she has had some good breezes and even Passion X deserves a turn.

For a second week in a row the finishers took an hour off of some results and with such abbreviated elapsed time the published handicap results are up the creek. Some quick manual calculations with the correct elapsed time suggest that Passion X will finish fourth again just ahead of Fireball and Joli.
Without doing the calculations I estimate that Infotrack will win from Agrovation and Much Ado V which suits our case as these three for one reason or another have missed much of the Summer series.
If I am correct in these estimates Passion X will remain on top of the leader board and pull away a couple more points from Joli. Fourth place suits us nicely as our handicap stays pretty much the same while and we live to fight another day.
There are some photos on the Greenwich Flying Squadron facebook page for the evening and when I get a chance I will see if the GoPro feed has anything to offer.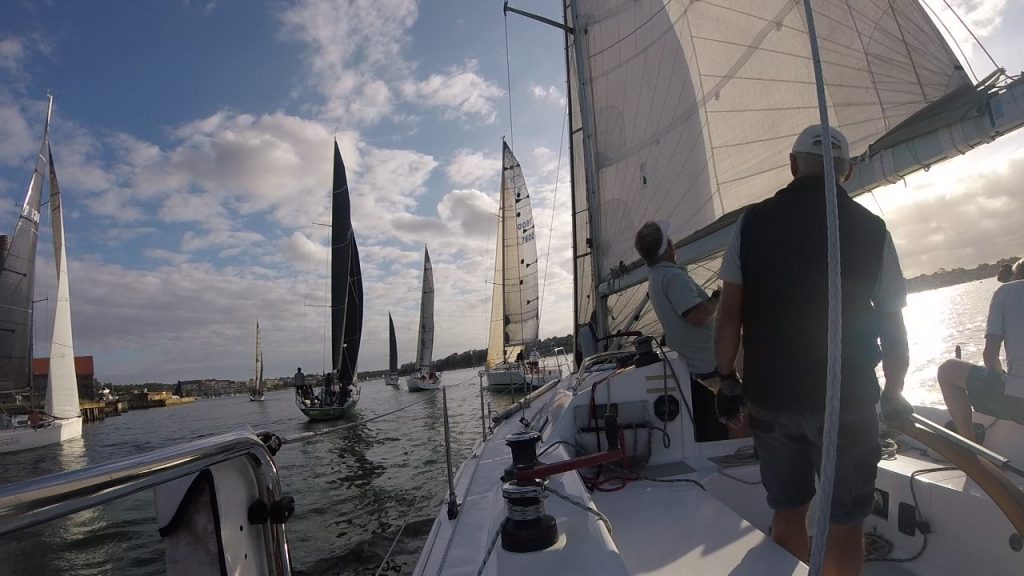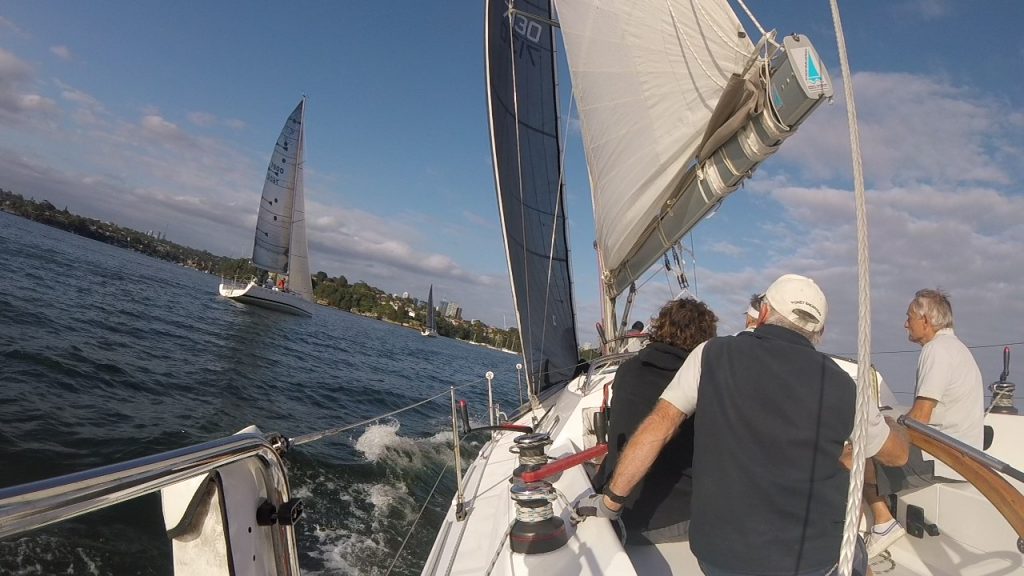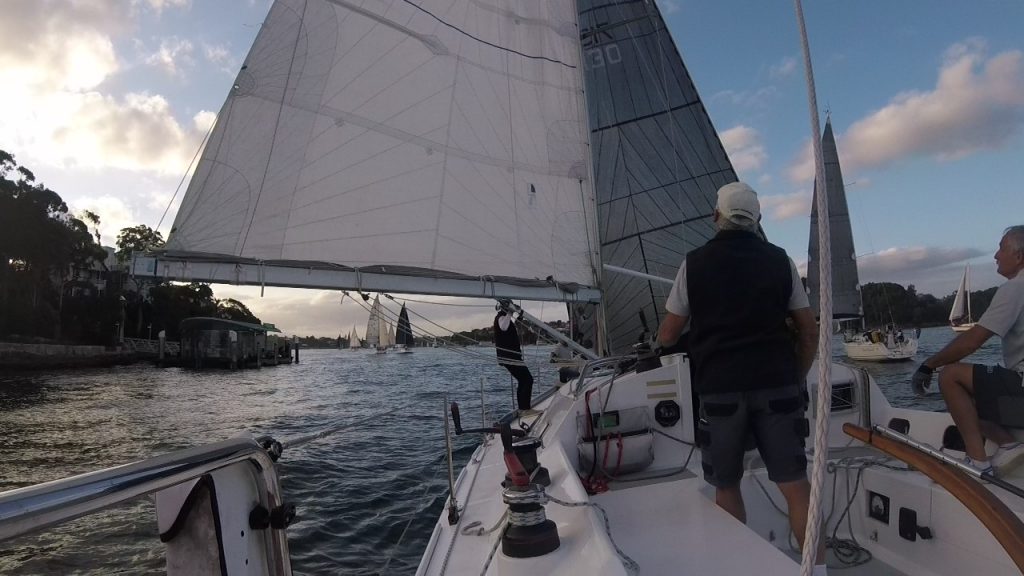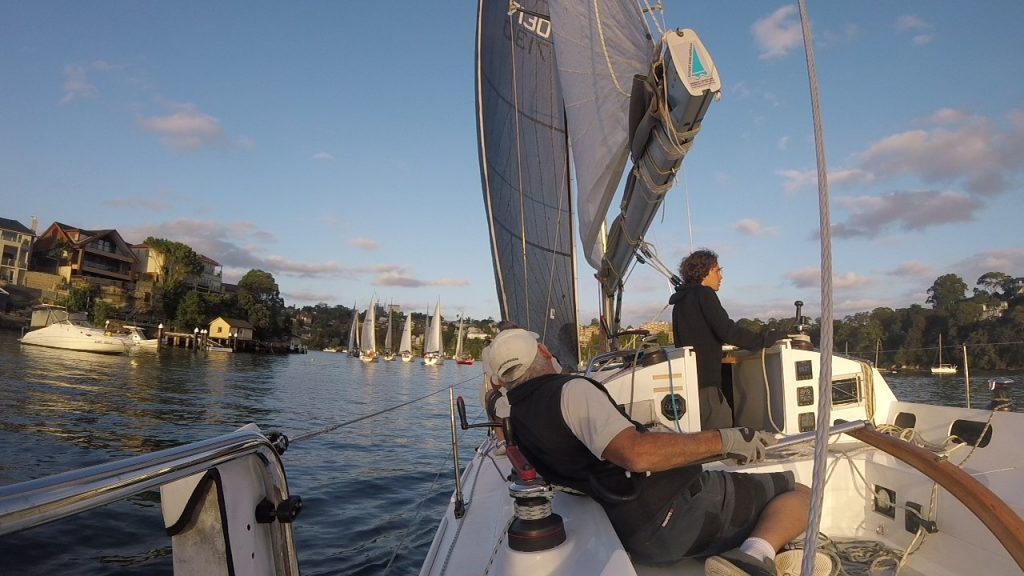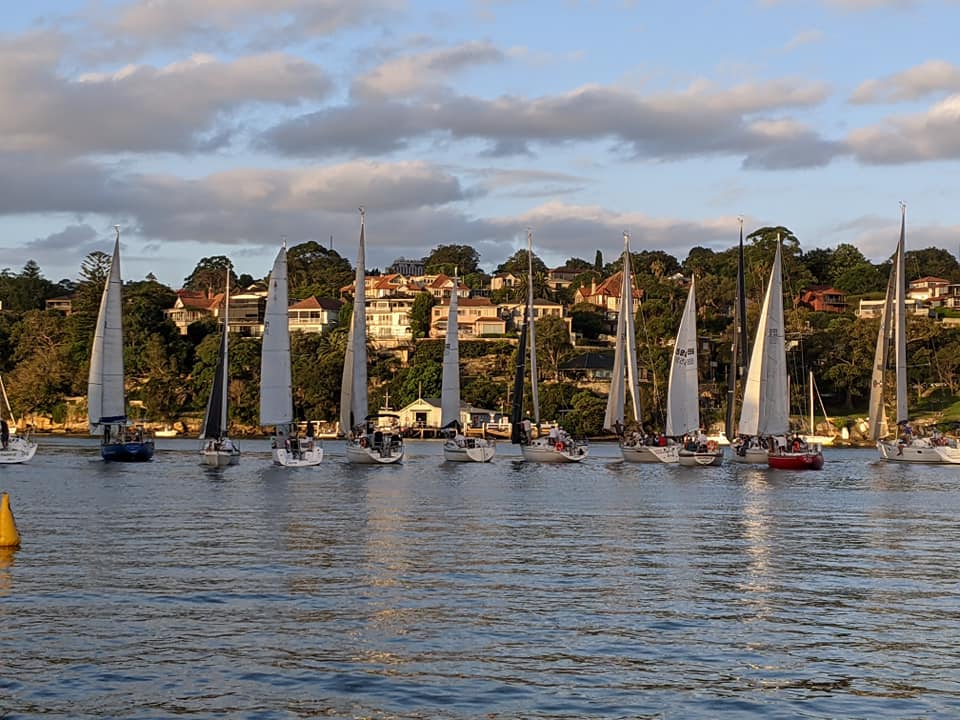 We are just home from a most enjoyable Friday sprint around the islands in the Balmain Sailing Club Friday afternoon series. The 15 knot breeze took the heat off the day and provided ideal conditions for a quick race. The A team was Elaine and our Grandson Otis and between the three of us we kept Passion X moving in good fashion. To make life easier for the small crew we vanged down the boom hard and left it on all day. That let us drop the boom to leeward so we could power through the gusts without playing the main. Quite frequently the genoa was backwinding the bottom half of the main but this seemed to have no adverse effect on the height or speed. With the vang on hard the top of the mainsail was controlled and providing lift. With the boom angled out I let some depth creep back into the foot which seemed fast up to the 18 knot wind range after which we did flatten it out.
For the day I had the GoPro camera mounted on the stern facing aft to capture some of the yachts that we might pass or catch us. What is most noticeable from the video is that we sailed on a consistently large angle of heel without rounding up.
So ideal were the conditions that we consistently saw over 5 knots VMG to windward and the rare 6 knot pointing up into the stronger patches to stop the yacht heeling too far.
With only one helmsman on board I was not about to abandon the helm to pole out the genoa on the downwind legs but we sailed the wind shift to keep it flying to windward and while not as quick as properly poled out the conditions helped to keep it flying
In the conditions no one was going to catch Riders of the Storm but we did make up 12 minutes over the course of the race and did stay in front of Avalon who gave us a 6 minute start. It must have been one of our better days as they typically take 7 minutes out of us around the course and today it was just under 5 minutes so we are pretty pleased with that effort by our little A team.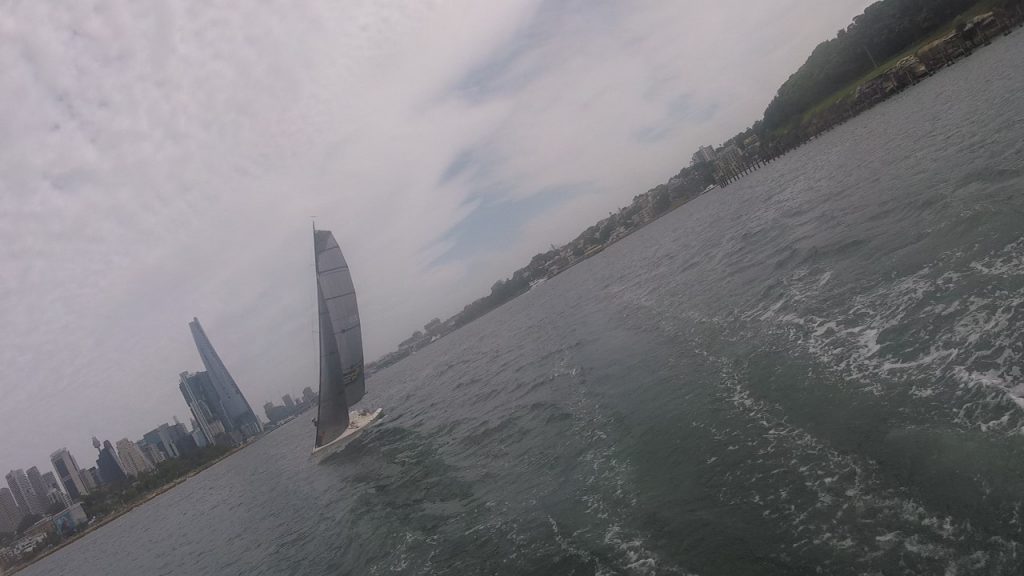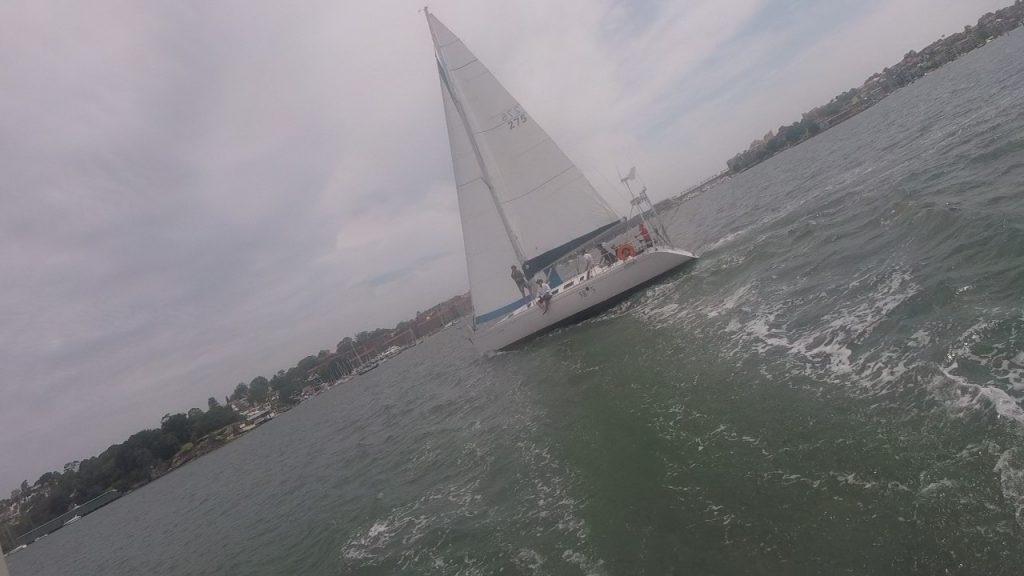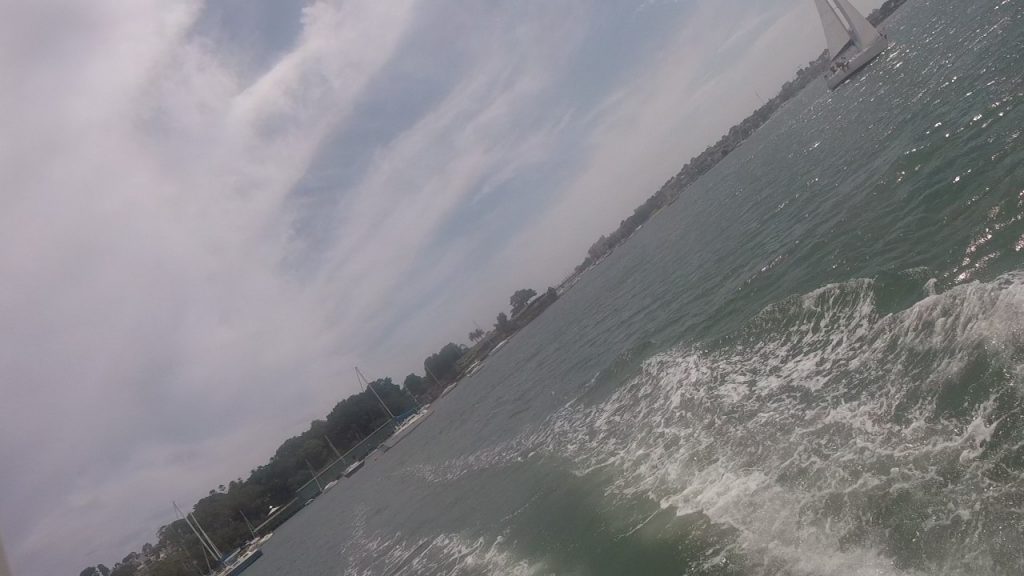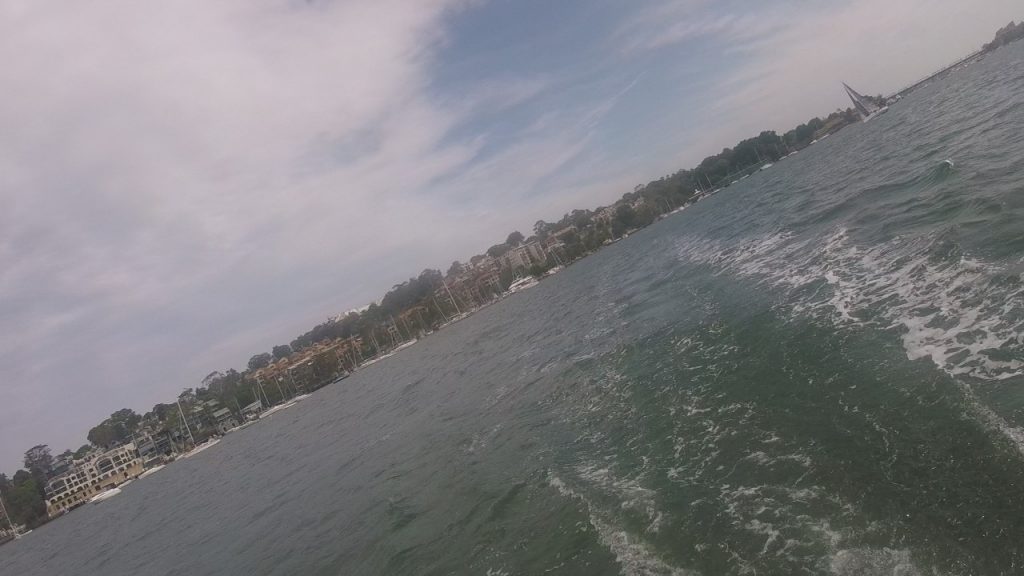 The Greenwich Flying Squadron fleet was greeted by warm gusty conditions for the Wednesday twilight race which made for interesting if stressful sailing.
The black fleet bunched up at the exit to Humbug with Fireball taking the risky inside track but escaping unharmed from this tactic. Passion X was widest hoping to see the inside fleet becalmed but it was not to be and so we had a tightly bunched group tacking at very close quarters in very gusty conditions.
Eventually Dump Truck and Much Ado V worked out ahead using every gram of their 2.5 tonne keels to punch into the strengthening conditions. Utopia also drew away while Fireball, Joli, Meridian, Ausreo and Passion X had an absorbing trip to Goat Island. By the reach and run down to Snapper Island only Fireball had slipped behind this tight group and we were feeling pretty pleased with our position. We were still pleased on the work back to Goat except for the impressive windward performance of Ausreo who left Joli and Meridian behind with Passion X slipping back due to some heavy traffic off of Spectacle Island. We were still happy until the last 100 metres into Goat where the timing of the lifts did not go to plan allowing Joli and Meridian to slip away. Our run around Goat was disastrous as the light patches followed us around the island allowing Fireball to gain minutes and come up within cooee.
When we did get going Meridian and Joli were reaching away at high speed already well past the concrete dolphins in Snails Bay.
At this point wind decided it needed to give the crew of Passion X some encouragement so it hotted up for the reach past Long Nose drawing us away from Fireball and up much closer to Meridian and Joli than we deserved.
The wise move would have been to tack and follow the J112 twins but we headed hard into the Valencia Street Ferry wharf and had to tack away from a very big, very late lift while Meridian and Joli out mid stream were able to use the lift to advantage and recover some of their lead over Passion X.
The very last set of lifts were also unkind as we were headed well below the finish line and were forced into two more tacks before we crossed the line. Compounding the problems was the nature of the gusts which were short and sharp rounding us up repeatedly on the way to the line.
Despite these setbacks the early part of the race when we matched it with Ausreo, Meridian and Joli was enough to give us fourth on handicap behind Infotrack, Ausreo and Fireball. Fireball did well from cutting the corner off of Greenwich point and from the second rounding of Goat and hung on for the well deserved third place.
Infotrack completed the course in record time but the time of 6 minutes 57 seconds is slightly suspicious and may catch the eye of the race committee for review. Nevertheless the relative positions of the rest of the fleet will stay the same and Passion X should move up the leader board until the discards kick in when Ausreo will be able to drop their DNS and take over the crown. Meanwhile we escape with a good place and our handicap unsullied ready for another race