After three weeks finishing just a little out of a good place we bounced back today with a fine seventh fastest and a second on handicap.
The fresh North West breeze ranged in strength from 10 to 20 knots but was generally above 15 knots. This is a good breeze for our No2 genoa and we performed much better than the last time we set the rig on the opening day of the season. I have dropped off a quarter a tonne of water which might account for a little improvement but the main seemed to flatten out better today allowing us to feather up into the gusts.
There were a few things going our way today. At no stage did we round up nor were we driven off our favoured tack by starboard tackers. The tack of the mainsail has been made adjustable with a big 4:1 block which means we can leave the mainsail halyard alone all race. These are not great changes but Passion drew away from the two Northshore 38 s which were our old mark boats before we adopted the big blue Viva as our benchmark. In the heavy airs we expected Viva to romp away but we stayed within 2 minutes of her and beat her by 20 seconds on handicap. Working in our favour was a few timely wind shifts and the tracks from today seem to overstate Passion's real capability to windward. She is better than she used to be but really not that good.
The star of today was the 12 metre long Crackerjack who did the double first and fastest. She does like strong winds but appears to have improved a lot and is performing consistently well this year. In the strong breeze we did turn the tables on fellow GFS sailors on Gwhizz who struggled in the fresher winds. By rights it is our turn to crow this week but we know only too well that we might be the feather duster next week.
Seventeen yachts contested the RANSA Winter Wednesday race in conditions more like early Autumn. Nothing in the warm day and light airs suggested that the shortest day of the year is just a month away.
In the conditions I was pleased with our tenth place which might have been better but for the dying breeze that leaves the slower yachts out on the course struggling to finish in the lightest air of the day. It was worse for the big blue Viva and who was some 19 minutes behind and not so good for Enigma who was 9 minutes behind.
Izzi and Gwhizz from GFS have at last been granted suitable handicaps and Izzi with a good start in clear airs managed a respectable fifth on handicap while Gwhizz showed what a good light air yacht she is with a fourth on handicap and a finish well in front of Passion. John and Graeme on Gwhizz will be delighted that they beat the newer Elan 350 over the line and we will be hearing about it for a while.
The course was a tight reach up to South Head and a broad reach back to Steele Point before tacking into Rose Bay. The line was laid favouring the boat end and that is where a lot of damage was done to handicap prospects. Allegro did a penalty turn and it took half way to the head to catch us while Rainbow Gwhizz and Izzi seemed to get away unscathed .
We did try a few things. A new adjustable tack on the main seemed to work well and we were able to leave the main halyard alone all day. Letting the backstay right off so that the genoa and main were fuller seemed to help too. The tight reach to the heads was too tight for the reaching tweaker on the genoa so we settled for moving the car forward.
On the reach back to Steele Point we found some private wind and climbed above Silky for the first time in the race and made good ground on Gwhizz and Crackerjack. We were however forced by a starboard tacker to tack away from the shift ahead and that cost us dearly. Well maybe not too dearly but at least one place on handicap.
At the finish we beat Silky by the smallest of margins of one second but a place is a place.
At the finish I declared the day a roaring success because we had enough wind to get around the course in picture perfect conditions and we beat our new "mark" boat Viva by nineteen minutes.
Twenty one yachts lined up for the start of the Winter Wednesday race on a too short, too biased start line. In the prestart manouvres a new yacht to our division, L'eau Co, bore away from the line forcing us to gybe away. We got back to the line on time only to find the same yacht stalled on the pin end. Unable to make the mark they bore away again forcing us to again gybe around to cross the line on port. So biased was the line we still started in front of several yachts and we were quickly under way.
On the long windward work to the south head we were kept busy tacking below starboard tackers and on occasions taking a stern. We quickly caught Rainbow, Enigma, Star Ferry and a couple of Etchells and for our troubles had these extra yachts to avoid. Rainbow did climb above us on the starboard tack making up for the gains we made on them on port. I was unwilling to take on the big blue Viva so we tacked below her when troubled. All this tacking was taking a toll on our progress so on the approach to the top mark we were pinned on to starboard going past the lay line with Gwhizz on our quarter so that when we could tack we were well above the lay line.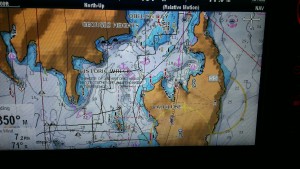 Passion's tracks from today's race.
I expected we would do well on the run back to Rose Bay with our big black genoa poled out on the oversized pole but it was not to be. We were on port gybe running by the lee and when we gybed to starboard the wind shifted and we were by the lee again. In these unfortunate shifts Enigma, doing nothing, sailed past and Gwhizz approached our stern. Only the wind shadow of Vaucluse and our more cautious course out wide saved us. Somehow Rainbow, L'Eau Co and Silky pulled away in Rose Bay while we drifted around Enigma and a couple of Etchells. When we rounded Rose Bay with the inside running and went high to protect our wind there was a large gap in front of us splitting the fleet.
There was no Britannia this week driving us up into moored yachts but just clear air and a reach to the mark. Once around Point Piper we were in phase with the breeze for both legs of the beat which on the tracks look to be our best for the day.
For the reach and run home to the finish we ran down the div 2 Fatso and managed to keep in front of the fast finishing Starr Ferry, Gwhizz and Enigma as well as the two Etchells that had kept us company for the whole race.
The thirteenth place was disappointing considering how well we had held the fleet on the windward work. There were no big upsets on the course and we finished just over a minute out of seventh place. In these big fleets a few seconds here and there are important. Rainbow's margin if front was over four minutes which is at the top end of the range we should expect.
We did have a good day on the water and were blessed with fresher winds than I expected. I know we should not ask for more than good company, fair winds and sunny skies but a little bit further up the result sheet would be nice.
On the way to the course we were overtaken by Oracle skippered by Olympic champion Tom Slingsby and we did get to say hello to Tom as he and his team scooted by.
For the first race of the RANSA Winter Wednesday series I was hoping for winds between 15 to 20 knots so we could see how we performed with the No 2 genoa and a full mainsail. Well we got the winds I wanted but not the result.
The fleet all started very close to on time and a wall of 17 yachts spread out over the course reaching to South Head. While we broad reached with the genoa poled out on the leeward side we were holding the fleet well. When it was square and we had the genoa poled out to windward we also held the fleet well but near the leeward mark we were caught needing to go high with the pole out and were over run by Rainbow and Silky and Star Ferry on the mark.
At this stage I was not worried because we had the No 2 genoa on and were commencing the long beat back home. Rainbow with a reef in was pulling away in the gusts while Britannia with a big crew complement was struggling in the heavier conditions. Slowly we overhauled Star Ferry and Silky and at the Rose Bay mark had them well covered. Approaching Rose Bay I stayed wide of the mark to allow Britannia to round without interference but she was determined to cause as much trouble as possible and held on forcing us to tack onto Starboard and stall. Had I known they were going to sail so aggressively I would have taken their stern and possibly still made the mark but the damage was done. To add insult to injury they forced us up into the prohibited area of the moored yachts and only a lot of yelling made them give room. Now perhaps they thought we did not have an overlap and could have pulled behind their stern but from my position that seemed impossible. In the close results on the day these couple of diversions cost us about three places and made the difference between contented and grumpy.
The last beat around the Island was not a good one. Perhaps we missed the lift being a bit below the fleet but in the space of one leg we were overtaken by Silky and almost caught by Star Ferry and this was worth another three places. At my best guess we should have managed a fifth place by improving 1 minute and four seconds but had to settle for eleventh.
Comparing the results with the past year we did a very similar time to our average time compared to Allegro, Larrikin, Rainbow and Krakatoa and we did better than average against Ellipse and Britannia. The new entrants to the division from GFS, Gwhizz and Izzi were four to six minutes behind so we have not a lot to complain about. The fact is it was a close race and we could have been sharper.
There is a suggestion that we should have reefed like Rainbow and I admit it was a close call. We have beaten them before when they carried too much sail so perhaps this was their turn. I did have full water tanks and while I hate wasting water it will have to go before next weeks race. We are down three crew for next week but I predict a very light air race so we should be fine.
With just two sleeps to go before the Winter Wednesday series kicks off it is time to practise blogging on the new Passion site Kevin has kindly made a new site based on WordPress and this is my first effort posting from the mobile phone to the new site.
I am looking forward to the new series and the forecast for the first race is for a windy one. Bring it on.
The RANSA Winter Wednesday Series runs from 7th May until 17th September.
Race Documents
The Notice of Race is here
The Sailing Instructions are here
Division
Passion is Division 1
Division 1 code flag looks like;

Start
Division 1 Start is 2.00pm
Course
Course A (Full Course)
Lady Bay, East Channel, Rose Bay, Point Piper, Light House Mark.Shark Island Mark, Naval Bouy 3B (P), Naval Buoy 3 (P) to Finish.
Course B (Short Course)
Lady Bay, East Channel, Rose Bay, Naval Bouy 3B (P), Naval Buoy 3 (P) to Finish.
Code flags A and B look like;
Pick-up
Pickup times for Passion are 12.30pm at GFS and 1.00pm at Number One Walsh Bay.