In the tug of war between adding more plywood panels towards the stern and finishing the ply that was already installed the extra plywood won out.

It was not a hard choice as the weather suited adding more sheets of plywood and once I got into a routine the extra six sheets to finish the sides back to the stern progressed well.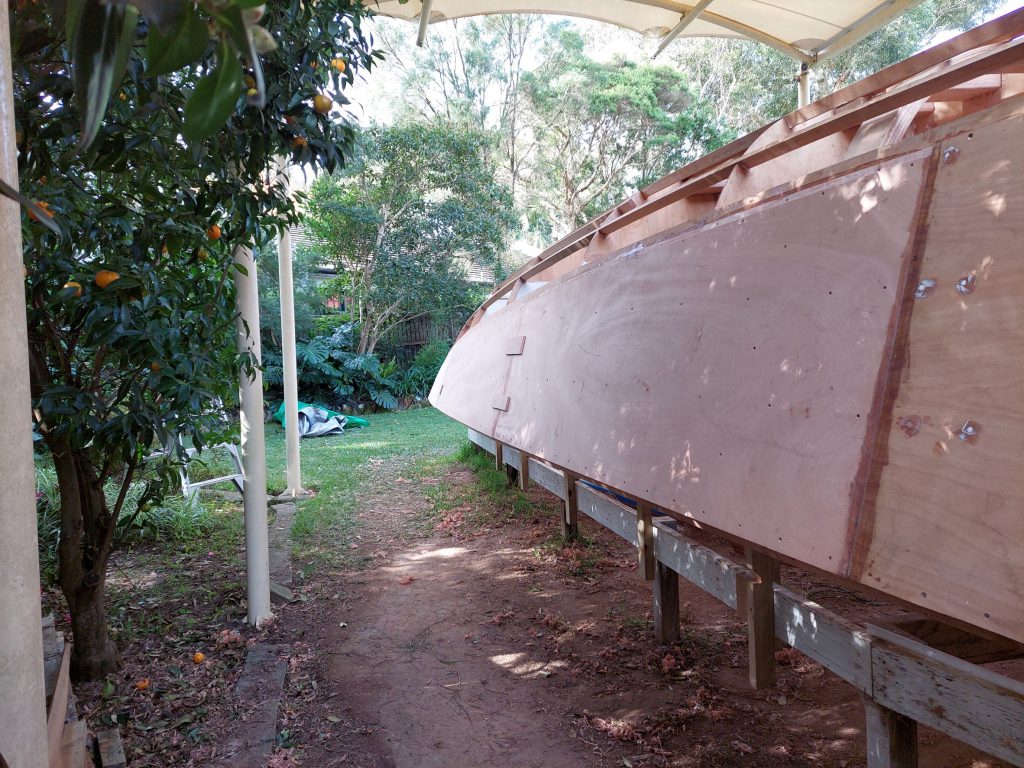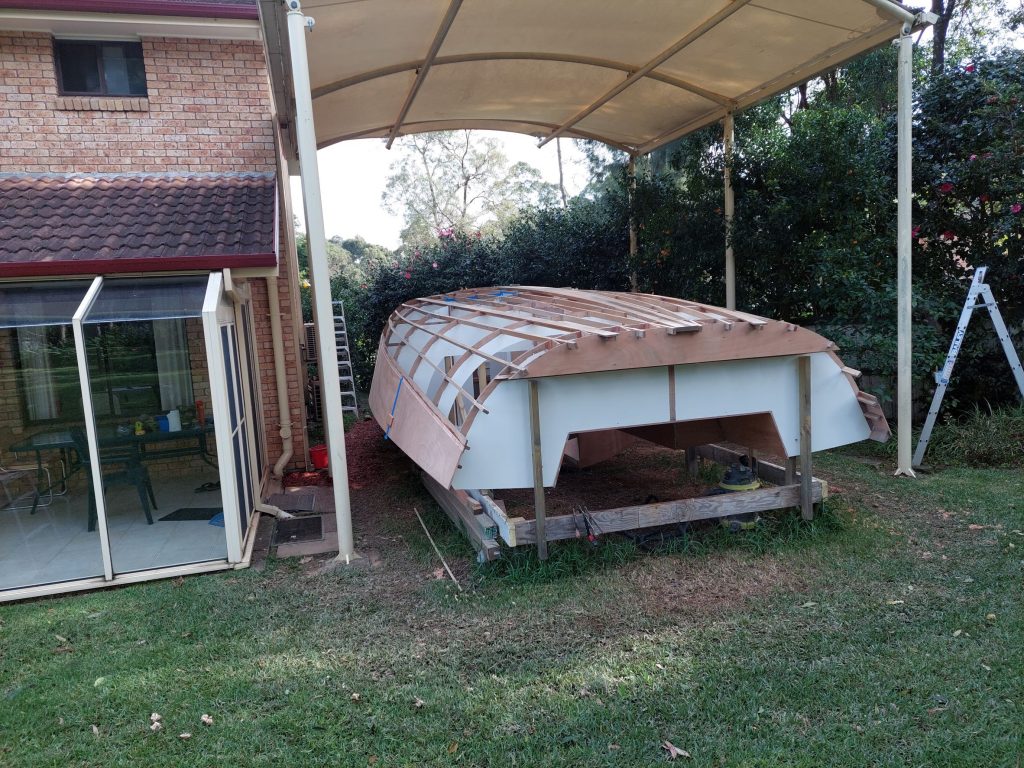 While it appears that a lot of progress has been made the appearance is deceptive. The hull had been prepared for the ply sheets many weeks ago while I was waiting for construction drawings for the keel floors. Likewise I had already cut and fitted ten shelves so gluing in the six shelves in the quarter berth area was a quick task. Nevertheless i did recheck all the stringers and did take a few plane strokes off here and there. Finally all the surfaces to be glued were sanded.


When the Wednesday racing at RANSA was cancelled due to the strong wind warning I used the time to advantage and fixed more panels. It was helpful that the two sided are identical so that once one side was trimmed to size it was a template for the other side.

By Thursday I had only one sheet to fit and that was already cut to size, marked with the stringer positions and had the edge rebated at the tangent chine.

Fitting the sheets to the hull was not without drama with the occasional shower threatening but with help from Elaine the panels were all fixed to the hull.

The balance of Thursday was spent with some finishing tasks and priming a lot of bare plywood in the quarter berth and cockpit locker areas. This priming is bringing forward a lot of finishing and I am confident that the road to completion is shortening with every coat of primer.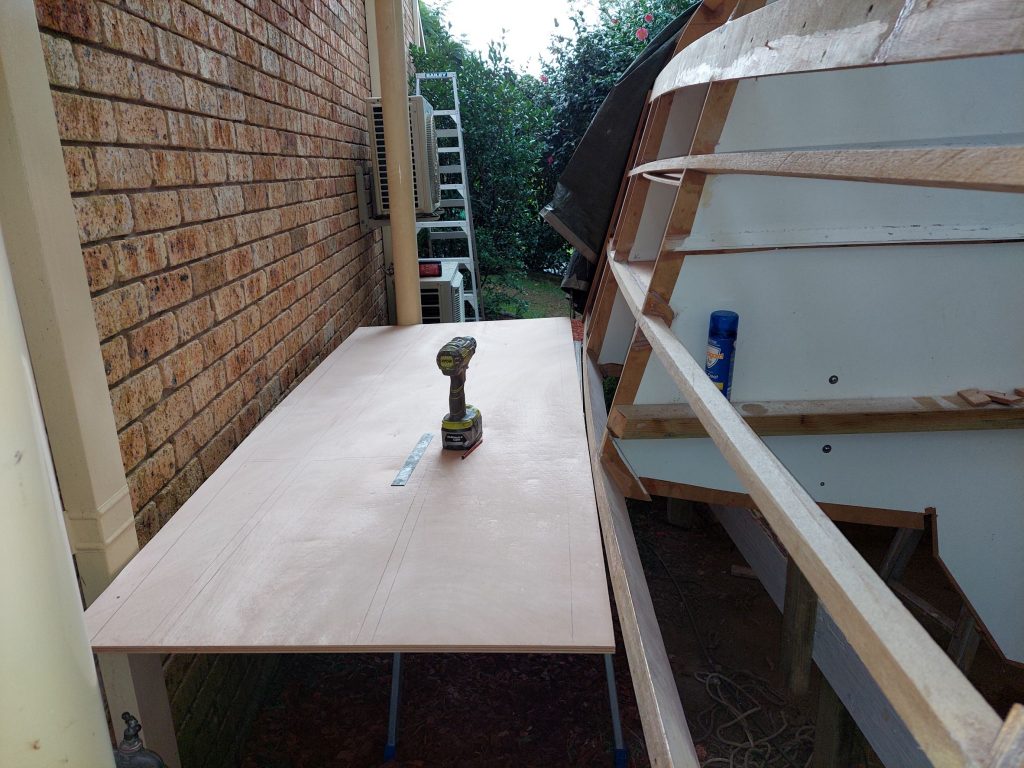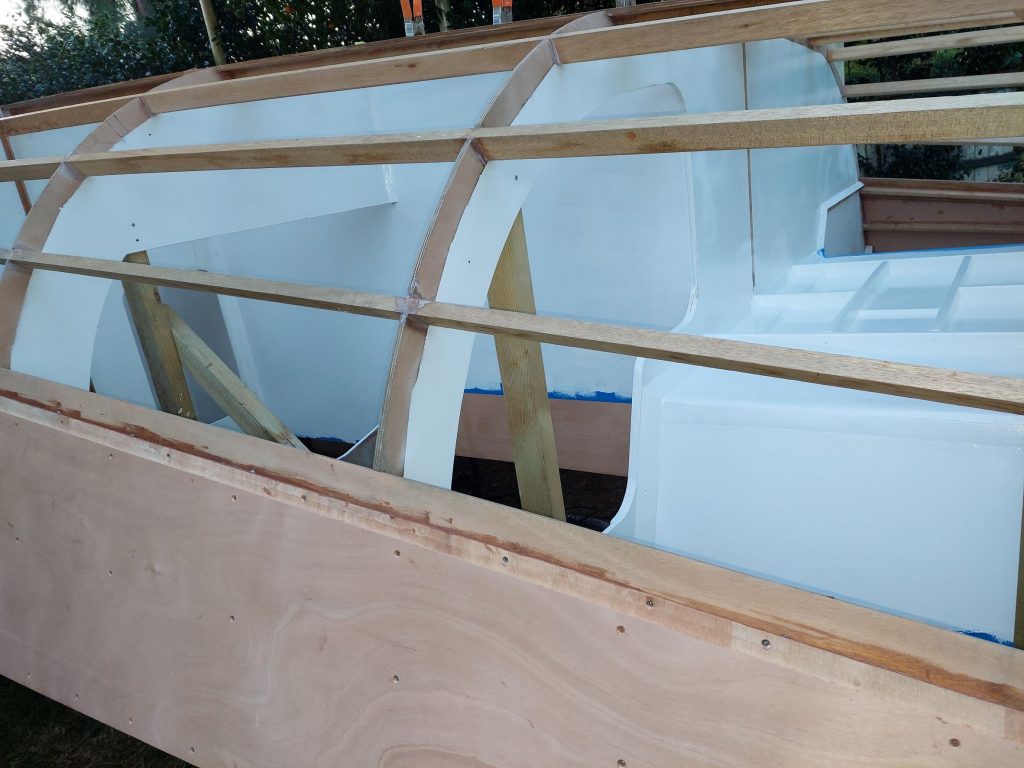 In contrast to the appearance of speed earlier in the week today was a slow one with careful preparation of the chainplate frames for glassing to the external plywood. I am being careful to remove any cured epoxy or at a minimum ensure that all the surface gloss is removed and well sanded surface is presented for gluing. In all there are five layers of glass to go over the join of the chainplate frames to the hull and today I managed only three layers on one side of one chainplate. On the bright side all the connections have been prepared so it is just a lot of glassing to go.

I am pushing forward with the glassing of the chainplate frames so that I can prime the settee locker area and work towards the stern priming the interior of all the plywood panels installed this week.