What a glorious day for the first race of the RANSA Winter Wednesday series! The race had it all with sunshine and better winds than forecast with enough shifts to keep everyone on their toes.
The first leg was into the eye of the wind and while windward leeward courses are not our strong suite we did get a good start at the pin and took the opportunity of the first flick in the breeze to get back across the course. Allegro with new antifouling was out of the blocks strongly and held her lead over us all day. Agrovation, clearly in a class of her own was soon in the lead through good boat speed but also picking the first shift to the east to perfection.
We were happy to be crossing tacks with Amante, Foreign Affairs and Crosshaven and to keep in touch on the long slow run home. Only the nimble Brittania popped our bubble when she sailed around us going into Rose Bay and did the same to much of the fleet to the finish to win on handicap.
I am content with our mid fleet position and happy that everything worked as it should.

The sailing did take second place to the boatbuilding this morning as I was determined to complete the front section of the new cockpit design on the new yacht. I rose early to finish what I could not do yesterday due to the complexity of the shape around the front of the cockpit. The cockpit narrows from 850 mm to 600 at the bulkhead so that we have more headroom in our enormous quarter berth. Now that we can see the berth in real life any complexity is well worth the effort. Now that we can see how much extra cockpit room is created by taking it right to the bulkhead we are very happy.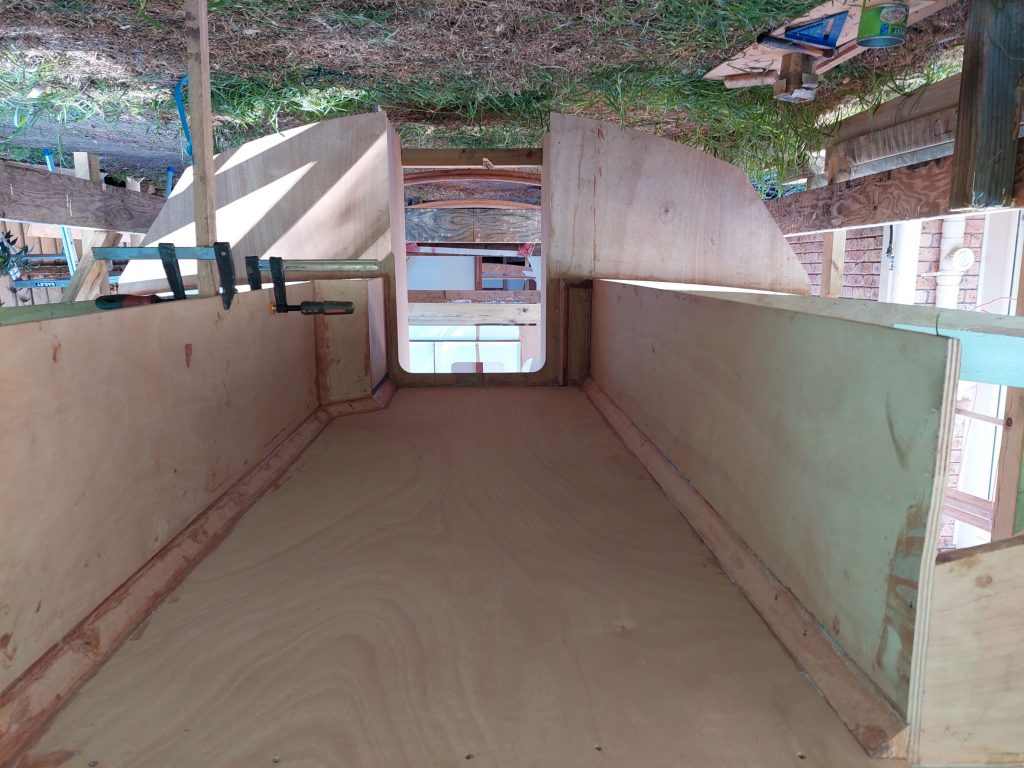 There are not a lot of photos because I have been working to dark and the sun sets not long after 1700 hours in our valley.