A win is a win and we will take it. Thanks to Harbour Dive Services for keeping the bottom clean all winter and special thanks to the loyal crew who fronted up come rain or wind. As a result of sailing all the series races we had a handy lead over Utopia going into the last race but with a fleet of eight starters the series was still wide open.
We did make a good start on the pin end of the line only to have the wind disappear for a few minutes. The slender lead we had was soon overhauled by Utopia who with a clean bottom were keen to show what they could do. Meridian, Jackpot and who knows who else soon ran over the top of us going through Humbug but we had a trick or two up our sleeve. The breeze kept filling back in from the left so we reached out to the port side of the fleet and with the advantage of wind and angle managed to go over the top of everyone except Utopia.
Down the left of Cockatoo Island John Ewing off of Utopia took some very nice photos of Passion X which was pleasing as we had our daughter Natalie and her three boys on board for the race. Otis looked after the skirting while Reuben tailed for Mal and Don and we need them back every week. Hugo kept a close eye on the action and will soon be an expert tailer.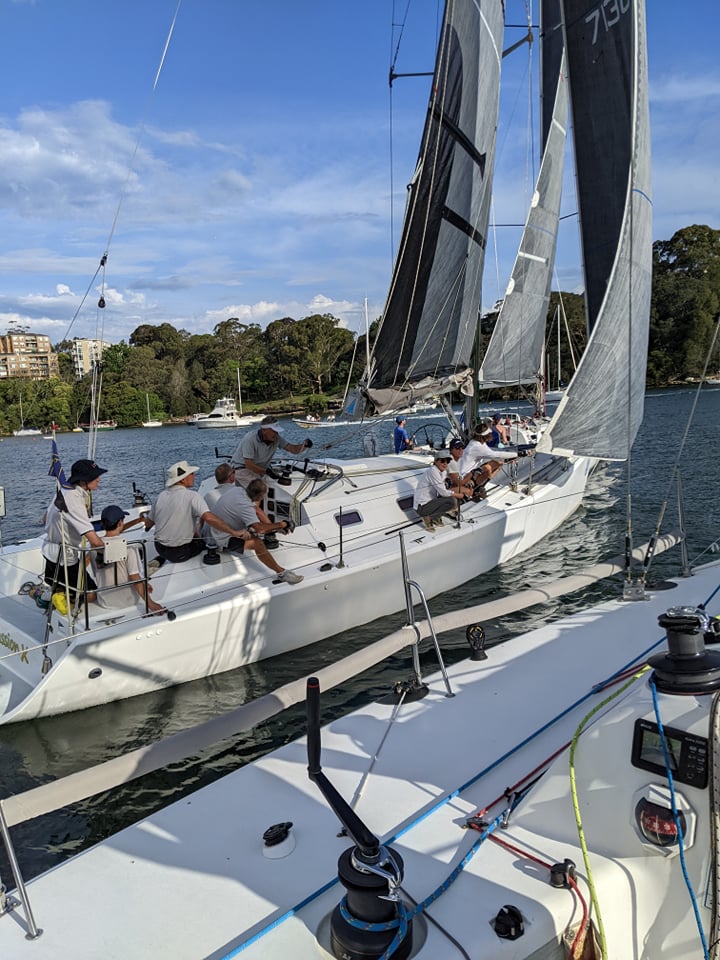 With the No 1 heavy poled out we managed to keep just in front of Jackpot to the corner of Spectacle Island but once on the work back to Goat Island we were overtaken by by Joli and Meridian. For a shore while we traded tacks with Joli and Meridian but they were soon away while somewhere a long way back was Agrovation, Sweet Chariot and Ausreo.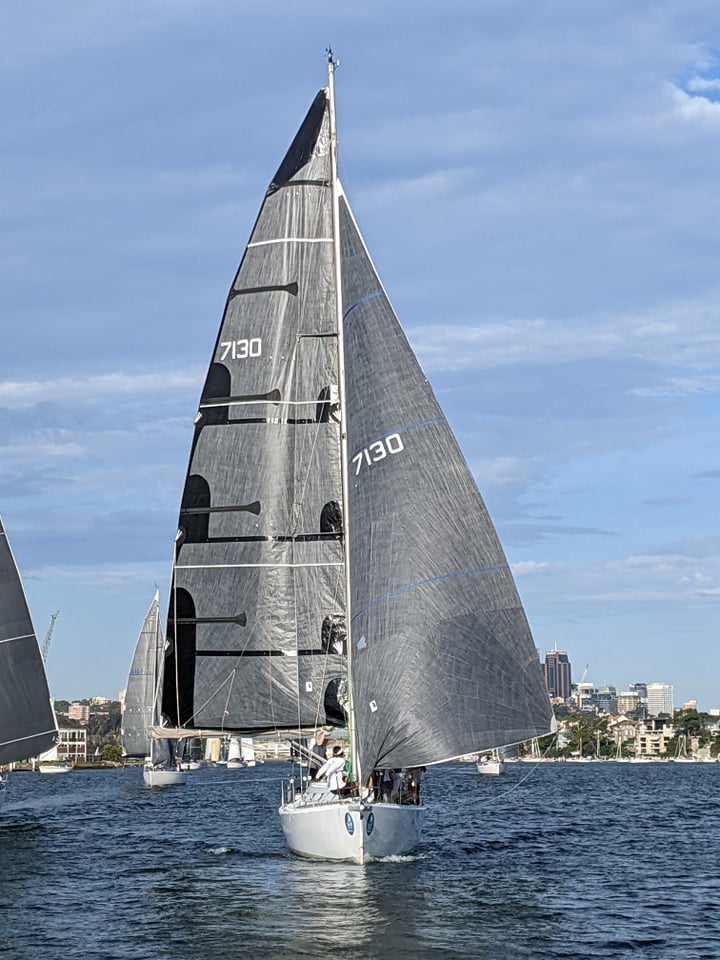 On the beat to Goat the breeze was shifting in direction and velocity but mostly it was dying giving the front runners a double advantage of being further up the course and the time to cover the distance widening.
After what seemed an eternity we rounded Goat Island and took off after the fleet who were now well down the track to Long Nose. Every so often a wisp of wind would come over the beam giving us optimism that we might finish the race within the time limit. Any thought of a handicap win had long vanished but we could see Utopia stuck in Humbug while Joli found her own breeze and sailed through for a third place on handicap behind the front runner Jackpot.
We felt that we had made up enough time on Utopia to finish ahead and that was the case. Also we had caught up to Meridian and while we did not pass them we were sure to finish ahead on handicap.
As we drifted across the line we turned to see who was behind and to our amazement there was Sweet Chariot running through Humbug in 20 knots of breeze and certain of a good second place on handicap.
Meantime back in the pre wind era Agrovation and Ausreo had retired leaving too few handicap place points for Jackpot to beat us.