Archive for February 2021
Thank you to the course setters who listened to our pleas and set a relatively short race out around Cockatoo island, down to Goat island and home. Even with this short course the last of the Black division yachts limped home with less than ten minutes to spare.
We had a good start relative to the fleet but threw away any advantage in the wild wind swings around Onion Point on the way out. In the ultra light conditions we have trouble getting the main to go through under the backstay owing to the stiff long upper battens. At times the only solution is to drop the main halyard and then hoist again after the tack. We have a new main on order with only one long upper batten and that should reduce the problem but in the meantime in any wind strength under 5 knots tacking is a big issue and therefore not done quickly. As a result we missed the phase of two very short shifts off of Onion Point and sailed towards the back of the fleet. Only Fireball, Ausreo and Agrovation did worse and to be fair to Agrovation we did put them about onto starboard sending them further into the wind shadow.
Once out of Humbug and settled down to the beam reach we pulled back Lisdillon but she was to prove very difficult to pass. Close behind Agrovation was catching and around Cockatoo she passed with a timely tack to starboard to take advantage of a shift along the Cockatoo shore.
We were then able to follow and chase after Lisdillon who had pulled out well around the end of Cockatoo.
We went low and allowed Agrovation and Lisdillon some friendly interference to windward so that by Long Nose we had passed well ahead of Lisdillon.
The shifts off of Balls head were very frustrating and the little lead that Agrovation had on us stretched out while Meridian, Joli, Jackpot and Utopia were enjoying some jockeying for position just ahead and across a patch of no wind..
It seemed to take forever to get around Goat island with the wind refusing to tend east as promised. Instead it went further South and kept fading.
Around Goat the lead yachts were invisible in the distance while Ausreo was still to round the red marker and Lisdillon and Fireball were obscured behind the island.
Now we had some competition from the Blue fleet with Koko travelling very well and refusing to act like a Blue division yacht. After a long side by side run we managed to reach up from under and eventually square away for the run across the bay to the Onions Point Shore. The Blue division French Connection gybed onto starboard below us and while we had our nose in front we were anxious to avoid being in their wind shadow so we followed suite but kept as low as possible.
Finally the sterns of some Black Fleet yachts were visible. In particular we could see Joli not far ahead with Agrovation giving chase. While the distance looked pretty insignificant the time was three minutes to Joli and somewhat less to Agrovation. Joli picked up a nice header that allowed her to reach into the finish line rather speedily while Agrovation held out their genoa to windward and ran straight to the line. Just behind we had insufficient wind to hold the genoa out and had a very slow finish.
Further back the finishers were slowing even more. Koko stalled somewhere between Long Nose and the finish and was ten minutes behind and in good company with Lisdillon and Fireball. Much further back and showing great perseverance was Ausreo who finished 35 minutes behind and just inside the time limit.
Alas the promised Easterly breeze did not spring up and at 10pm it was just 3 knots from the south at the airport.
For our persistence we finished third on handicap behind Meridian and Joli and a minute 20 seconds in front of Agrovation and Jackpot.
The light winds and rain forecast discouraged Infotrack, Dump Truck and Much Ado V so our three points should put us back into second spot a long way behind Utopia and with a large contingent right on our tail.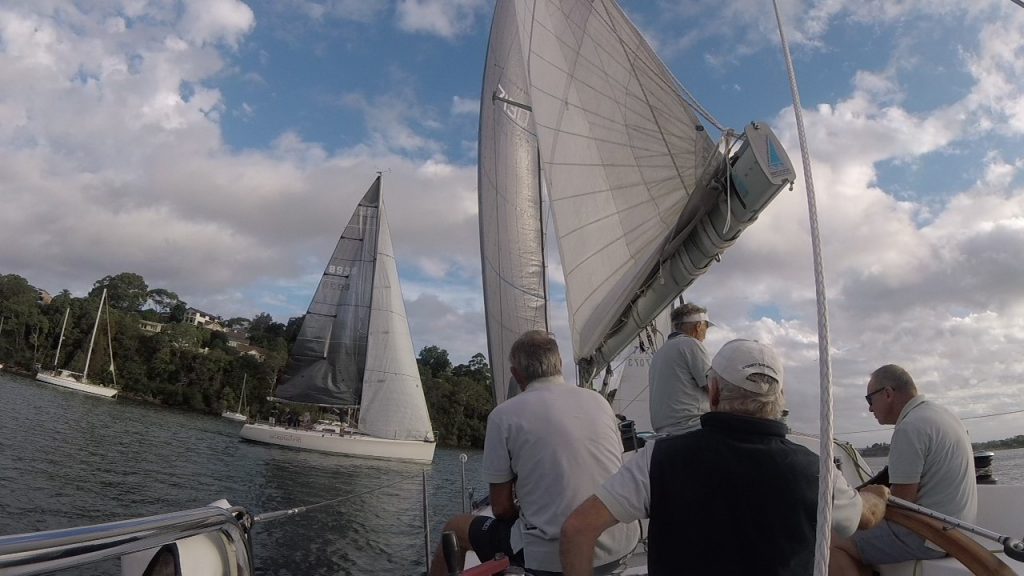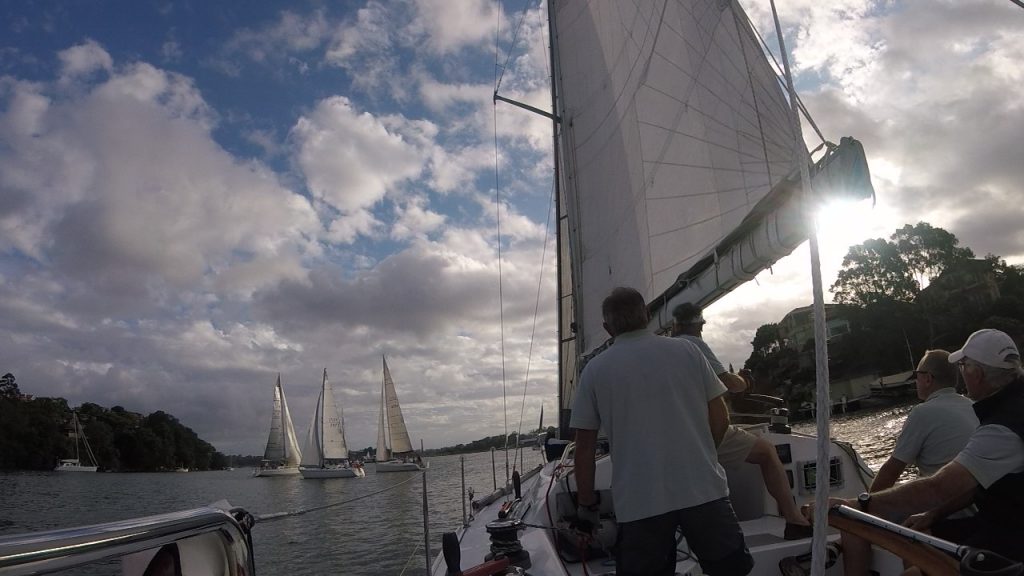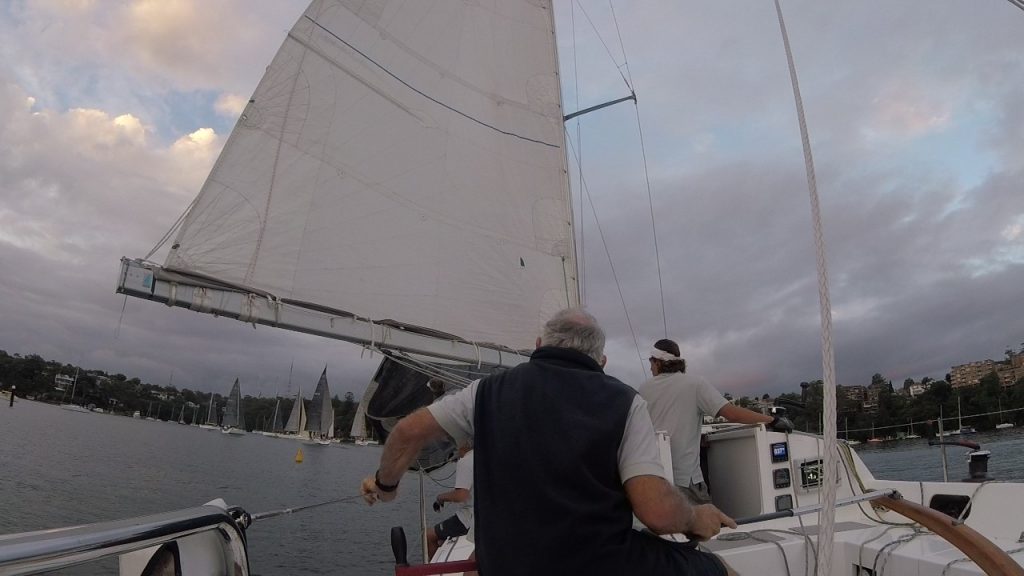 It was a night for the big genoas and we set our No1 heavy which was still damp from a fortnight ago and needed a good airing. As the breeze tended to be less than the forecast 11 to 12 knots we could have set our light No 1 and possibly achieved the same result.
The trip through Humbug was frustrating as we all sat becalmed. Unfortunately for us we were becalmed the longest and Lisdillon above closer to the wind shadow managed to find a puff and pull away while Fireball and Sweet Chariot just a few metres to leeward managed to sweep past and point up into the breeze. By a long margin we were stone motherless last out of Humbug and humbled by the experience.
Once intot he breeze we settled down to chasing the fleet.
Infotrack was out in front followed by Meridian, Much Ado V, Dump Truck and Joli. Further back was Ausreo, Fireball,Sweet Chariot and Lisdillon and it was this tail that we were chasing.
Our first break was a lift along the Snails Bay shore that lifted us above Lisdillon and on the knock back we were able to cross Sweet Chariot. Around the corner of Goat Island we were chasing Fireball and managed to put our nose in front on the reac back to Long Nose when Fireball and Ausreo went low and we went high for a streak of wind coming down the course.
At Long Nose the four last yachts converged on the point so we opted for the middle of the channel and eventually were able to reach up from under the tail on the approach to Cockatoo Island.
To our surprise the leading yachts had stopped along the Cockatoo shore so we made some substantial inroads into our time deficit.
Joli and Meridian managed to extricate themselves from the wind shadow off of the end of Cockatoo Island and reestablish a couple of minutes lead.
We stayed close for the work back to Goat in a position mid way between Joli and Meridian and the tail of the fleet with Lisdillon the most threatening.
Once around Goat Island we looked to have a big break on the tail and were closing in on Meridian and Joli while a little further ahead we could see the dark green hull of Dump Truck. As the wind bent around the headlands we managed to carry our genoa poled out into the middle of Humbug and were now just a few yards below Joli and Meridian.
Had the wind been a little kinder we would have shot past Onion Point in fresh breeze like the tail behind did but alas we were becalmed and headed and both Meridian and Passion X had to tack away and tack back .
From what I could see it looked like Joli managed to round on starboard tack and get a handy jump on sistership Meridian. Across the finish line we looked back to see the tail charging in on fresh winds and being carried swiftly to the finish line.

It was no surprise then that the tail wagged and got all the good points.
Joli by clearing Onion Point was the first it the front runners then Passion X, Meridian and last were the real front runners. And the first fastest Infotrack was last on handicap.
Lisdillon won by 2 and a half minutes from the close Ausreo and Fireball and to emphasise that it was a night for the tail to wag, even Passion X was over 9 minutes in front of Dump Truck on handicap and we could still manage only sixth place.
The forecast conditions of 8 knots was close to the mark and the sunny 21 Centigrade temperature made for a very enjoyable twilight race. For the light conditions we set the sails on the full side and reached out of Humbug near the front of the fleet. Agrovation pushed us up to windward forcing Dump Truck above us to respond and head up into the wind shadow. We were pushed so far that the sails inverted but eventually Agrovation got the same backwinds and had to pull away. That detour into the doldrums was a bit expensive particularly as Utopia several boat lengths to leeward sailed around the windward yachts and pointed up above our line to be clear ahead. Agrovation and Much Ado V tacked back towards Greenwich baths so we followed. Passion X on starboard had rights over Agrovation tacking back into mid stream but she tacked with just enough room to get onto starboard clear ahead forcing us to tack away prematurely. On the next tack Jackpot popped out in front and then Agrovation but further ahead was Infotrack, Dump Truck, Utopia and Much Ado V.
Meridian and Joli having their usual one on one duel approached Goat Island better than Passion X and rounded just in front. On the trip around Goat we went lower and enjoyed better breeze to make us some ground. From Long Nose it was genoas poled out for the run down to Cockatoo Island ane here we managed to pass Joli to port and Agrovation tp starboard with the benefit of our own breeze down the middle.
Hard as we tried we could not pass Meridian and she rounded Cockatoo Island a few boat lengths in front..
We settled down for the usual beat past Clarke Point and reach into Humbug when we were headed just off the point and grazed the bottom of the keel on the rock. it took less than 2 minutes to reverse off the rocks, tack away from the shore and tack back for the reach home but in that time Joli and Agrovation sailed past in deep water. On the last beat through Humbug we regained a few seconds on Meridian but they were a minute and a half ahead at the finish.
For our troubles we dropped two fastest times places to Joli and Agrovation and one handicap place to Jackpot.
Utopia beat Much Ado V over the line and took second on handicap behind Infotrack.
For the progress results Utopia will move 4 points further ahead of Passion X, Infotrack will slot in behind them and Jackpot will close a point closer.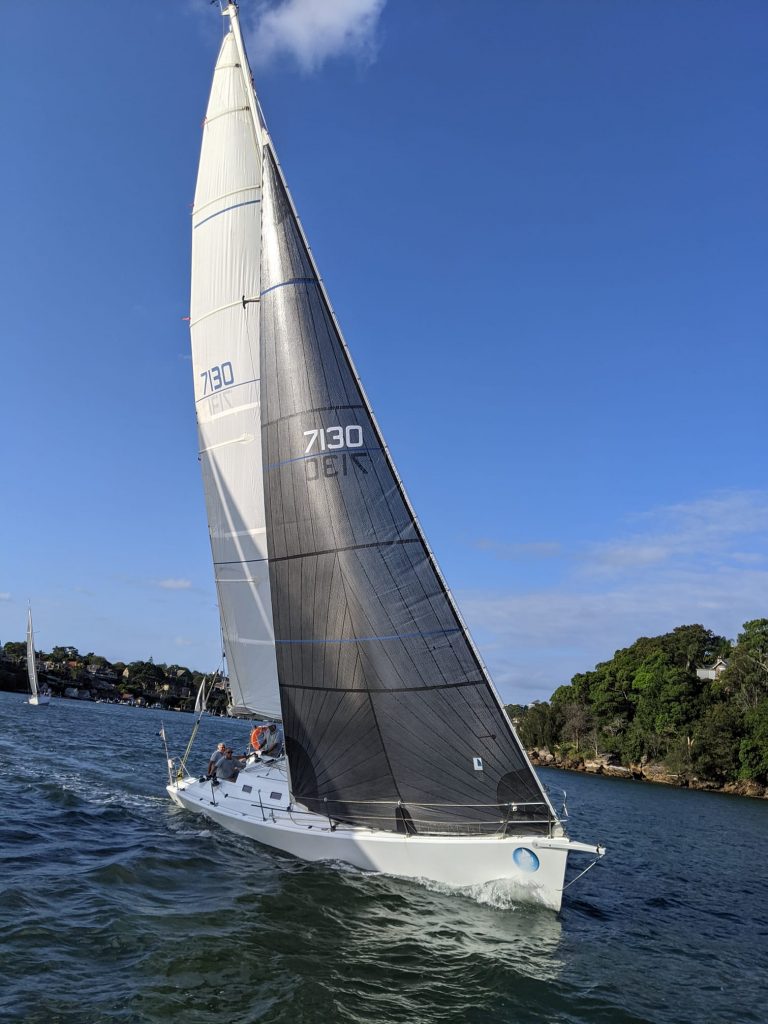 To be fair the thirty knots was post race as we were providing a water taxi service for one of the crew and the thirty degrees was on the way from West Pennant Hills to the water but all the same it was a warm and windy session.
For today we had two of my sons crewing and that added firepower for the windy conditions. In deference to the wind we set our new Carbon No 3 and put in one reef in the main. This appeared to be the rig of choice as Odyssey and Avalon seemed to have the same set up.

For some odd reason I clicked on the wrong link to the start times and gave away a minute at the start. We did think Odyssey started early but it was Passion X starting a full minute late. That minute gap to Odyssey varied very little for the work to Goat and the long run back to Spectacle Island but once on the work we slowly pegged them back to about 30 seconds.
Avalon with shiney new antifouling was not so close for the work to Goat and around Balls Head we picked up a strong gust which seemed to keep the distance fairly static. Along the Balmain shore to Cockatoo Island Odyssey managed to pole out their genoa and drew away and it was only a set of strong gusts along the Cockatoo shore that kept us in touch.
Around the eastern end of Cockatoo island Odyssey did some rounding up in the gusts which allowed us to peg back a few more boat lengths and at Spectacle Island we were right on their tail.
It was quiet around Spectacle Island and Avalon with genoa poled out was cutting into our lead at alarming speed.
Not wanting to take any chances in the 24 knot gusts we followed Odyssey around Snapper island and settled in for a drag race to the finish. Today the shifts went our way and we passed on front of Odyssey on the second last leg into the finish. Avalon was now charging up to our position but a header at the finish allowed us to flip to port and clear the line .
Allowing for our starting mistake we finished four and a half minutes slower that Avalon and that is a good result for us.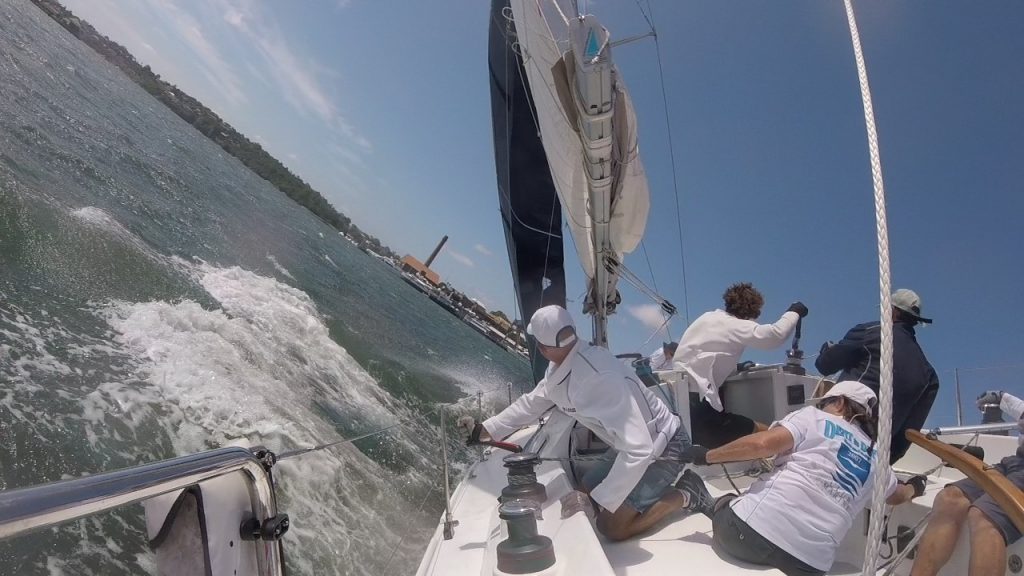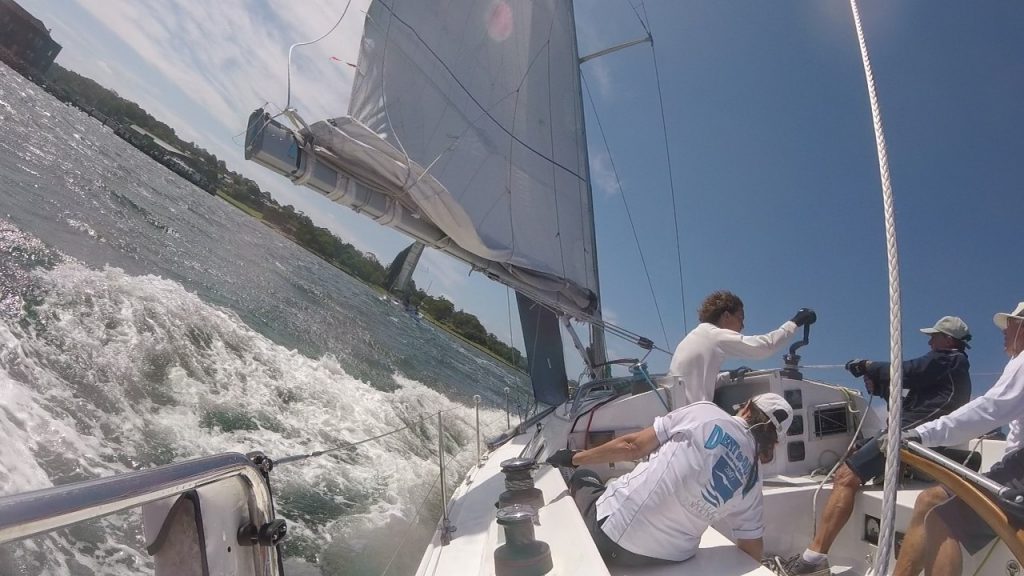 What a difference a week makes as the contrast with last weeks wet cold race could not be more stark. Tonight we had around ten knots and warm sunny conditions making for a most enjoyable evening. Our prospect had already improved when the divers removed the large plastic bag from the feathering propellor on Passion X. I am certain we picked this up half way through last Wednesday's race as we were performing well and mid race dropped off the pace.
We set the same sails as last week in part because the genoa was still dripping wet and in need of a good airing and the breeze was almost in the right range for our No 1 heavy genoa.
The start was a bit tricky as we had limited room between the moored yachts in Gore Creek and the fleet running back towards the port tackers making for the line. Dump Truck left no room between the moored yachts and Sweet Chariot was left circling in a very confined space off of the wharf and doing a fine job too. Some of the fleet opted for a starboard beat down the line and depending on the wind shifts they were looking good or bad. We opted to start on port mid line and would have taken sterns but for the fleet bearing away giving the appearance we were going to cross easily. As it was Jackpot graciously took our stern as the breeze left us almost stationary in their path. That allowed us to pull away from the header and still clear the rest of the starboard tackers.
Infotrack and Dump Truck were playing out in front in Humbug pushing up into the moored yachts and then Infotrack turned 90 degrees and headed back to clear air away from the Greenwich Point wind shadow. While this was going on Jackpot forced us up towards Dump Truck and while we pulled away as soon as we could clear their stern we were passed from below by Meridian and left in Jackpot's dirty air. The only bright spot was that Utopia and Agrovation seemed to follow into the wind shadow of the point and take just as long to emerge. The gain that Jackpot made in this phase was shocking. In a matter of minutes she was three minutes ahead and seeming to be having a great race.
We were sailing well enough but in the fresher breeze approaching Goat Island Ausreo was trucking up to our position and almost passed as at the red navigation mark. We did manage to bear away around the island with our nose in front only to be run over on the exit as we were blanketed by their rather large sails. We drifted through the gap in tandem but once the breeze came on the nose we had clear air again and took off after the fleet.
As the breeze faded a little we drew away from Ausreo and had a rather lonely race chasing Meridian on the long work from Spectacle Island back to Goat. Our boat speed and height was fine and we frequently saw over 5 knots VMG but did not always have the best wind direction. Meridian on the other hand picked some nice angles going into Goat the second time and drew further ahead.
On the reach back to Humbug we could see two Sydney 38's moving slowly through the gap and Meridian with better breeze making some progress from behind.
We followed Meridian's path with the extra bonus of breeze a bit further aft so we could carry the genoa poled out quite a long way down the broad reach to the Valentia street Wharf. Mid way it became too shy so we lowered the pole and stayed wide. Luckily for us we lifted along the Onion Point shore and had to tack only at the point to clear some early fleet yachts that looked to be about to run aground. The time lost in this was immaterial as it did not affect the fastest times or handicap places.

With a clean prop and some clear air sailing we managed third place on handicap behind Dump Truck and Infotrack. We were a minute behind Infotrack, a minute and a half in front of Jackpot and two minutes in front of Fireball. The two Sydney 38's had a close race with Utopia prevailing on time but Agrovation on handicap.
In the series we picked up six points on Utopia who are still 5 points ahead but we have broken out of the tight pack for second place if only for a short reign.