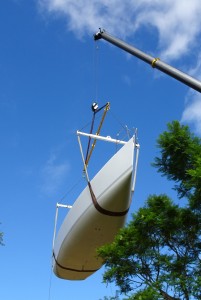 Today Monday 13th February Passion was lifted from its construction cradle through the trees and onto the semi which transported it to Greenwich Dock to meet up with its keel and subsequently its mast and rigging.
With much interest from the support crew and the neighbours the lift went without a hitch in the hands of true professionals JPM Cranes and Mark Anderson's Boat Transport.
You can see the almost finished interior of Passion just prior to take off and the flight over Dave and Elaine's house and onto the semi in the photos HERE.
Tomorrow the work of fitting the keel and rudder followed by spray painting and antifouling begins.