The breeze from the North East came in over an hour earlier than forecast so pre race we were enjoying 7 knots. Right on the start the breeze faded and shifted north so that the pin was favoured but so short was the line the pin advantage was marginal. Opting for room to tack we started on the boat end and tacked away as soon as we had room. That was a good move as the fleet was pinching up the line and seemed not to have dropped back to a close haul course on the start gun. On port and with freedom to sail a fast lane we were soom pulling ahead of the fleet. Agrovation tacked over to starboard crossed our bow and went to the windward side from where she eventually worked out ahead. Amanti tried to go over the top but I moved into height mode and managed to sail out from under until they too tacked away on starboard. Once we were headed we too tacked away to be careful to stay with the fleet and stay we did.
Back and forth up the windward work we took our gains and tacked back to cover. Perhaps the one mistake we made was to cross Crosshaven and Amanti at the top mark and then have to reach down to the mark when we could have tacked under and been clear ahead.
Agrovation had stretched her legs well out in front of the fleet while Amanti, Crosshaven, Passion X and Meridian followed in a tight group down the course to Steele Point. Meridian and Amante did best going either side of the course with Amante out wide and Meridian along the shore. We kept taking pressure when we could and managed to round Steele Point alongside Crosshaven. Initially we went low to clear the wind shadow of a bit Div 1s monster and once clear came up a little. Crosshaven in close died a painful death in the wind shadow of the hill while Meridian went even wider than Passion X and reached up from further out to be ahead at Rose Bay. That was possibly pay back from us running past them on the same leg last week so I guess that settles a score.
Over the radio the race officials announced a shortened course at Point Piper and as we crawled along that leg we began to realise why. Crosshaven had fallen further behind as the breeze died and she took the rest of the fleet with her.
Now we were chasing Meridian to keep the gap under our handicap allowance and that we did to the tune of 8 seconds.
So close were the first four yacht on handicap that only 37 seconds separated us but then there was a gap of three minutes to the less fortunate ones who had suffered the dead patch in Rose Bay.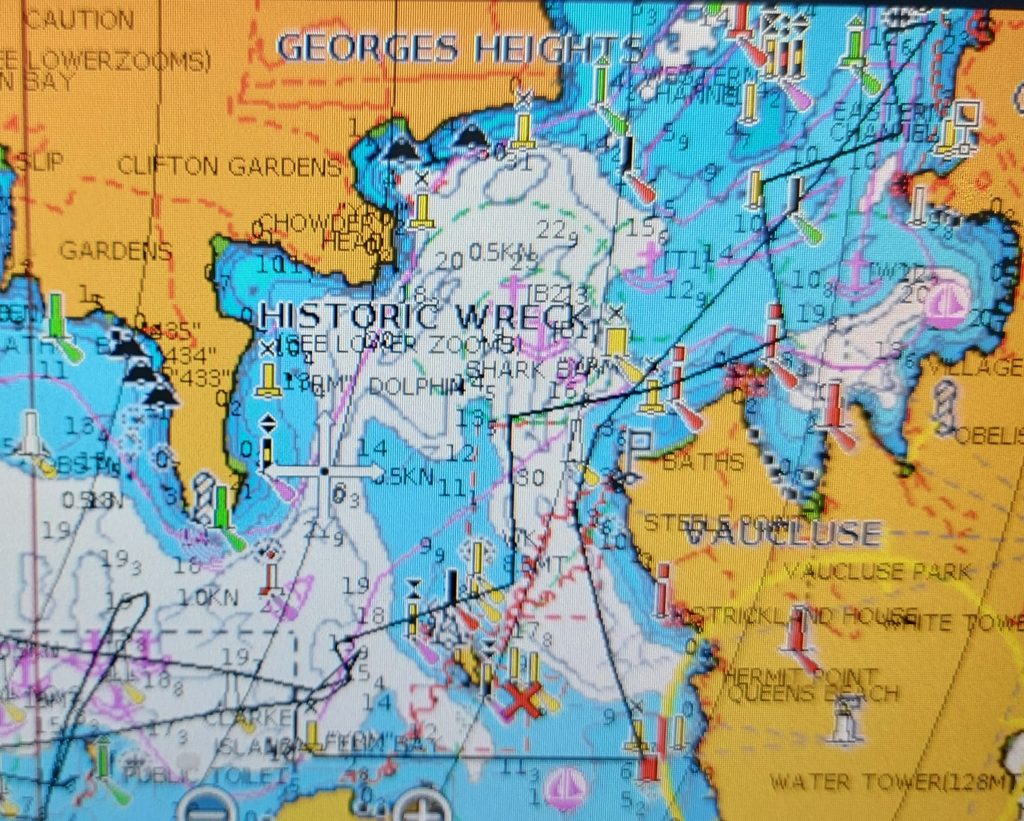 Monkey Magic held on for a fifth place to protect her position at the top of the leader board while Agrovation with a second and Amante with a third pulled further ahead of Meridian and Passion X tied for fourth. Then there is a break of ten points back to Britannia and the consistent Allegro.
For our part we are pleased to pull off a fourth fastest and third on handicap on a day when it was mostly windward working and a quiet run home.