Today is Ash Wednesday which for Catholics in Australia is a day of fast and abstinence.
Well it was not so fast for us on the race track nor for fellow competitor Farrst Company who ripped a genoa during the race. What was fast was the incoming tide and a new Dufor yacht, Van Demon, that joined the fleet for the first night.
It was an unusual race with a fresh sea breeze that gusted and shifted only to die in the closing minutes of the race while the fleet struggled through Humbug. We set the most sail area we could anticipating a run for the first leg but the breeze was so strong that the fleet sailed at hull speed for the first leg.
Our normal leeward side approach to Cockatoo Island did not pay off as a fresh gust reached the windward yachts first carrying them around the island ahead. In an uncharacteristic following mode down the side to Cockatoo we struggled to find a gap but did manage at the rounding to find a spot to leeward of Gwhizz who appeared to be reefing the main. Further out from the Cockatoo Island wind shadow Agrovation sailed into the breeze first and held that gap all the way around the course.
On the work against the tide up the Hunters Hill shore Van Demon picked a great lift off the eastern end of Cockatoo and got a big jump on the fleet. Meanwhile Izzi was up in the leading bunch tantalizingly within reach if only we had a favourable wind shift.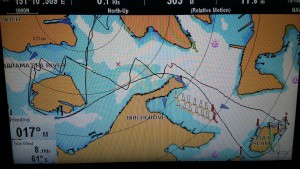 Tonight was not the night for the dice to roll our way. We could not bear away behind the stern of the black fleet Young 40 and so had to put in a short tack just as we were catching Agrovation. We just missed turning marks by a boat length and has to tack on three occasions but the biggest knock was reserved for the finish line where we were knocked and fell half a boat width too low only to be knocked on the tack almost back where we came from.
A strong incoming tide carried us towards the line ahead of the following fleet that was not reaching towards the line. Tartan approached the finish line at 90 degrees to the angle we had and so any semblance of a good performance by Passion was blown out of the water.
Back on dry land the boat building progress on Next Passion was also not going fast. My ambition of 16 planks a day has been halved and that is for a full 8 hour day. Final fairing of the radius chine section is taking longer than expected but the time spend is paying dividends with the curved sections matching as well as could be expected.