Looking through the results for the different divisions it seems that the gun boats of our size were Toy Story, Kerinda, Amante and L'Altra Donna (The Other Woman).
Toy Story is a Farr 36 OD of which only about 10 were ever built. From comments on Sailing Anarchy it seems this was once owned by the Oatleys. It is a light weight stripped out flush deck racer and was faster than everything except USB.
Kerinda is a Lidgarde 10.6 from 1998 which is still owned by the original owner who has fitted a full carbon rig, a fat head mainsail and stripped out all the cruising gear to make it a flat out racer. It has a lovely colour scheme on the hull and some very attractive spinnakers. It generally beat the Sydney 36 CR Amante. Amante weighs a tonne less than Passion and is narrower with a similar size rig. She has 27% more righting moment than Passion and so has more power for less weight in all conditions.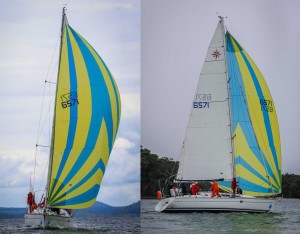 L'Altra Donna is the Summit 35 that raced in the performance racing section. She is currently on the market priced at $219,000 – details
here
. L'Altra Donna is 250 kg lighter than Amante, has more sail area and a similar beam. Kerinda, Amante and L'Altra Donna can all cruise but without the same level of comfort as Passion but the stand out is Kerinda in looks and performance.Passion looks good in the photos. The main and genoa and asymmetric looks a good size for the boat in the photo from Saltwater ImagesI could not find any close up shots of the big spinnaker on the media site but there were many fine shots of Kerinda with a huge runner which looked 10% bigger on a lighter yacht. The final photo of the crew enjoying the event just about sums up the regatta.