I have had a very lucky day with the weather and managed to lay up most of the glass reinforcement on the bottom ply that supports the keel loads. The reinforcement is 2 mm of high strength epoxy glass which I have taken out to the position of the water tank sides which support the keel frames. Length ways it extends for three metres from the mast step to the end of the engine beds. The layers are stepped so that there is not an abrupt change of 2 mm in the skin shape. Peel ply over the edges of the glass ensure that the edges are held flat and there will be minimal clean up once the peel ply is removed.
The area for the glass reinforcement includes two butt joins where I have planed out a step to allow an extra heavy layer of glass to reinforce the join. All up the join is covered by 2.75 mm of glass so it is far stronger than needed. The photo shows the butt joins prepared for the heavy glass strap and the ply hull sanded down ready for the glass reinforcement.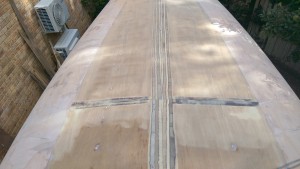 On the luck with the weather story Monday was very frustrating as every time I removed the covers to start glassing the drizzle would start so the day was spend running errands and epoxy saturating the inside of the hull. The forecast for Tuesday was no better and heavy showers were forecast for 1:00 pm in West Pennant Hills. Hoping to beat the rain I started early and laid up a couple of layers of glass then covered the boat waiting for the rain. Over morning coffee the sky lightened so I tackled the next section successfully. The final bit of risk taking was to gamble that the rain showing on the rain radar would go just south of West Pennant Hills. The last section I glassed was the final three layers of glass on the front half of the keel area. I had just finished spreading the resin on the three layers when a few spits of rain started. I quickly covered the resin with peel ply and had enough time to remove all the air bubbles, smooth out the glass under the peel ply and pull the covers back over before any serious rain started.