Wednesday was a forgettable day with cool wet conditions and not enough wind to finish a short course. The cut off time is 8:15 pm regardless of the start time for the different fleets and at 8:00 pm our position was hopeless so we started the engine and motored to the finish line to see if anyone would make it. A few of the early starters did finish but for the majority it was a wet, windless and win less night. With no post race BBQ it was a quick dash home to dry clothes and poached salmon and salad dinner.
With no race results to report there was no rush to print but for other reasons it has been an interesting week.
On Thursday Elaine and I had our vaccine booster shots and while she seemed energized, I was a bit flat for a few days and really only came back to life on Monday.
Saturday was a long haul to Gosford for the Laser racing and with a up and back course and a big shift in the wind it ended up reaching both ways for a pretty uninteresting race. Sunday was no better with the Middle Harbour Amateurs cancelling the club championship due to the tsunami warning. This was the right call given the circumstances so I dashed home to pick up some hardware from Bunnings. Now every visit to Bunnings seems to be accompanied by another Covid alert so I scored two alerts for the day.

Monday I was up early to visit Passion X and replace the raw water inlet pump shaft seal. This is a ten dollar seal which retails for something more substantial but you do need the genuine part don't you? After watching a couple of different U tube videos on how to replace the part I was confident it would be an easy task if done with an impeller replacement. It was and by 11 am the task was complete and the engine running without a trace of a leak. One of the tips from U tube was to use an appropriately sized socket to push the seal evenly along the shaft and into the recess and that worked a treat. The next hour was spent mopping up every last drop of salt water that had leaked through the seal into the bilges. It was a good test of the bilge pump and I can report that the bilge pump works very well as long as you hold the float switch up until the last dregs are pumped away. Next there was a bit of mildew to wipe off the settee fronts above the bilges where the water had been sitting since last Wednesday's wet and windless non race. Normally the bilges are bone dry and mildew is not a problem so hopefully we will resume normal conditions from now.
So with not much sailing to report how is the boat building going you might ask.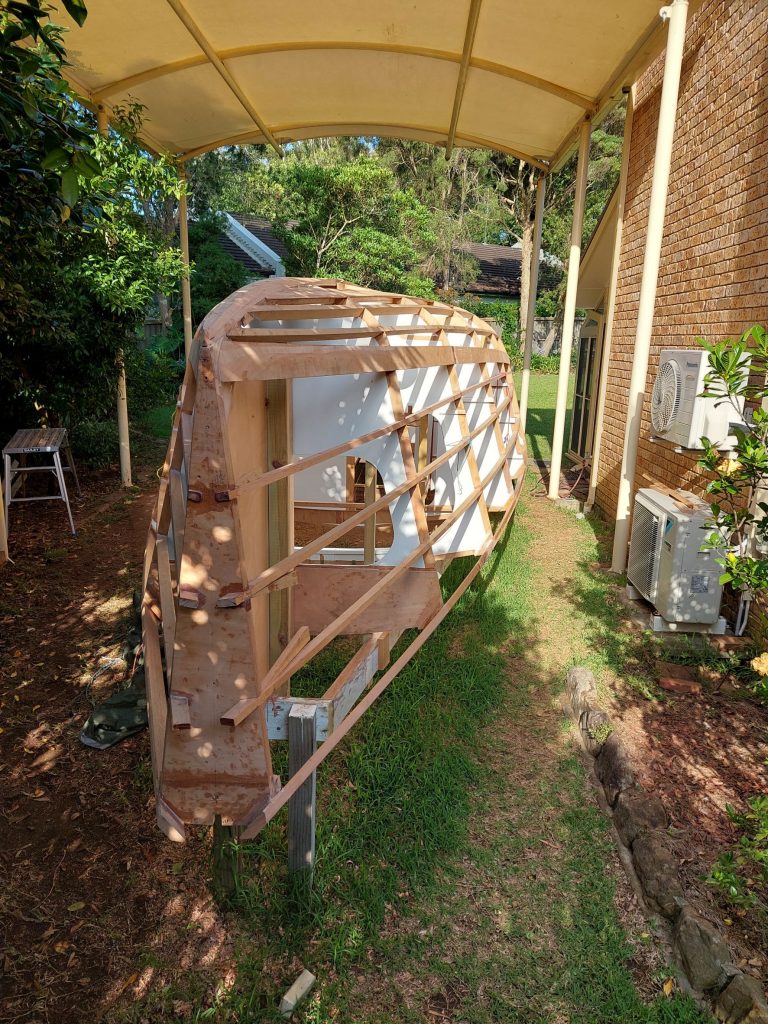 All the stringers are in and the critical path is waiting for the keel floor beam details to be completed. In the meantime everything has to be done some time so I am doing the time consuming tasks now like fitting cupboard shelves and chainplate frames.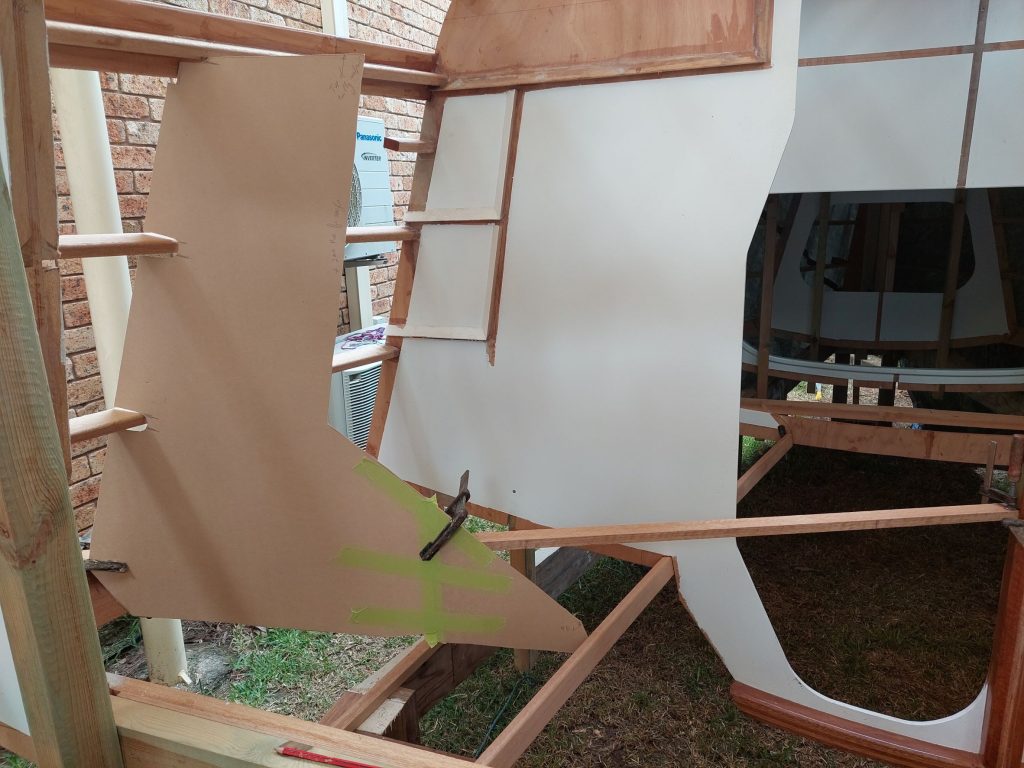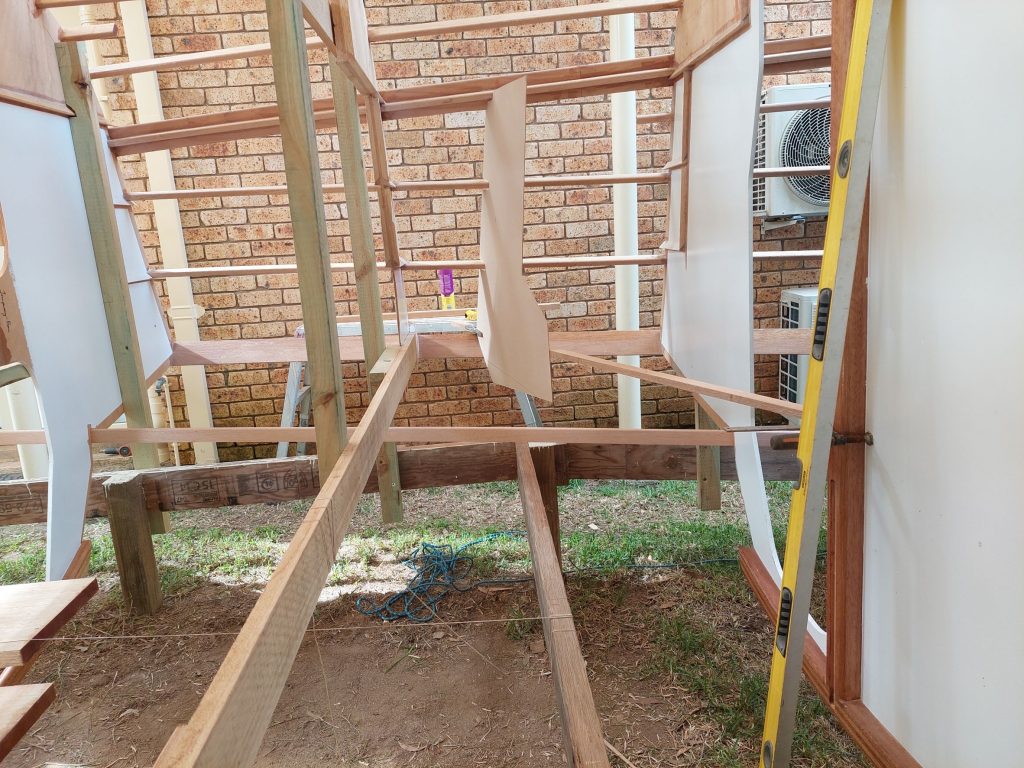 Twelve shelves have been fitted and there are four more to do. It helps that the hull is very true and a shelf on the port side can be turned over and fit the starboard side. There is some angling of the edges needed where the mirror image requirements have to be met but in general it has been a lot faster than anticipated.
I do have lots of little doublers to go over the stringers at each bulkhead and with 9 stringers a side and twelve bulkheads and one each side you can arrive at a number of 432 but that would be misleading. There are also bunk stringers to count and there are deductions. Many locations have a widened attachment point due to the intersection of cleats from different directions and some will have a doubler on one side and a thickened epoxy fairing on the other. I have a good supply of 12 mm ply doublers ready to go but I need to make a large number of 9 mm ones for the 9 mm ply bulkheads.
On Passion X the stringer doublers were finished square but on the new build I am rounding the edges of the doublers with a router to remove the hard edge. The hard edge looks modern but the rounded edge looks more traditional.